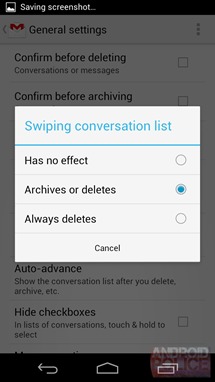 It looks like version 4.2 of Gmail's Android application will be coming along with some new features, according to a video from Android Police. Not only are they new, but they are features its users have been clamoring for. Probably the most wanted feature for Gmail, pinch to zoom, will finally be made available in this new version, along with a bunch of other cool stuff.
Another new feature is the ability to swipe away emails from your inbox. This makes deleting emails faster and easier than it ever has been with the Gmail app. If you're one of those people who does not like deleting their email, fear not, because you will be able to set the app to do nothing if you swipe by mistake. By default, Gmail will archive messages from inbox and delete any message from sent or all mail upon swiping. You can set it so it to always deletes if you prefer.
Gmail 4.2 will also add the ability to report an email as phishing. While not as fun as swiping to delete those emails you don't want anymore, security is important, and features like this certainly help keep you safe. We are assuming that Gmail 4.2 will bring bug fixes, as most app updates tend to do.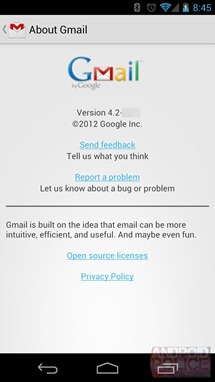 Remember, this is a leaked version of the app, so right now, there is no way to download it for yourself. If your phone is rooted, and someone puts this leaked version up, you will be able to install it on your device, provided it is running at least ICS. In the mean time, we will all have to wait patiently. We will keep you posted on this new version of Gmail as it happens.
[via SlashGear]