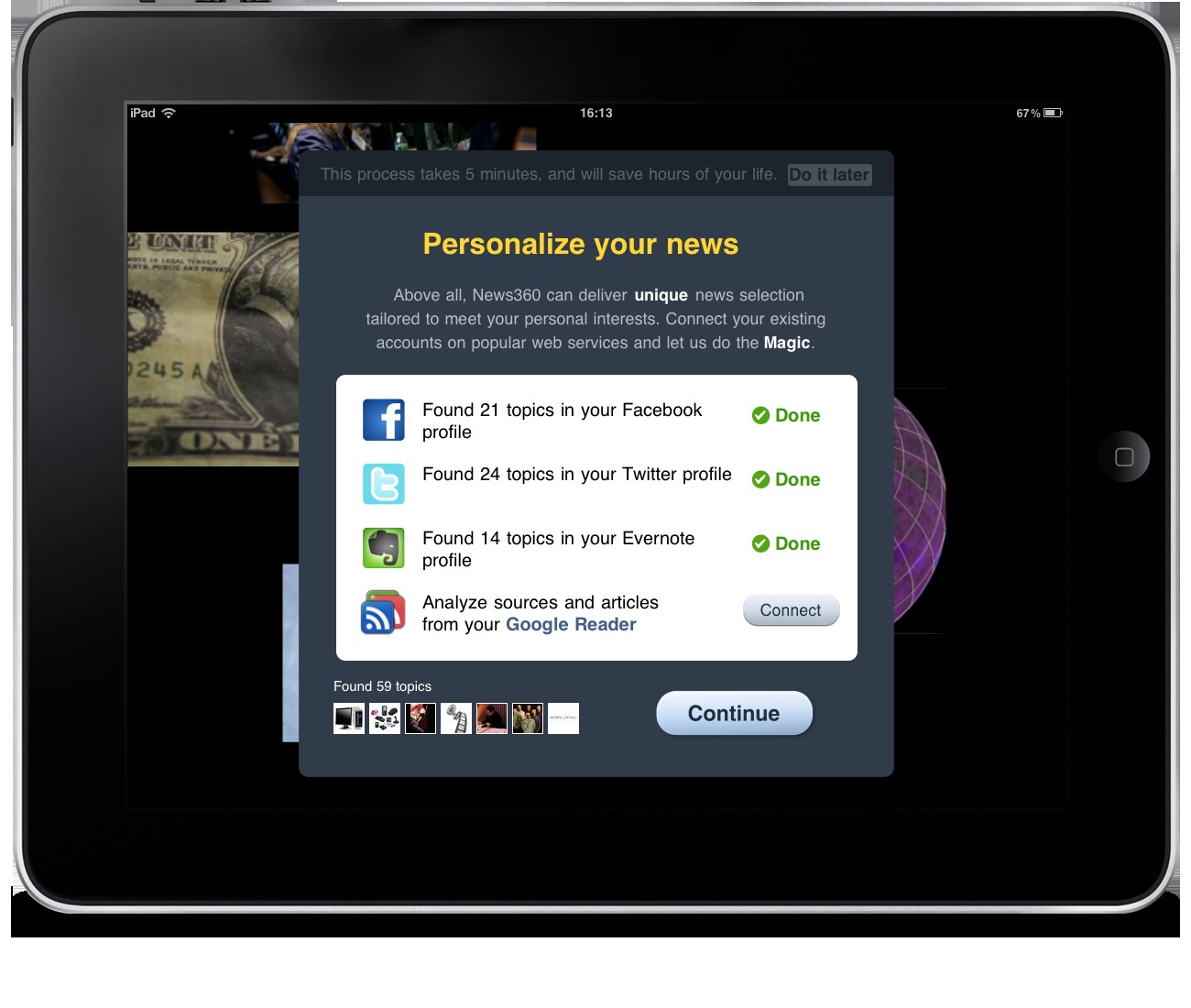 What we're getting here today is the newest version of one of our favorite news apps, that being News360, one we called the App of the Week a few weeks ago, now in its second full version, version 2.0, one that introduces the social networking world into the tablet in a very large way for the iOS version and a soon to be large way for Android. The biggest change in the Android version of this application at the moment is the instant access to news videos. Right alongside tabs for your regular news feed at the awesome 360 view of images linking to news stories is a Videos tab that'll allow you to check out the news in purely video form.
The interface for this application is fiddled with a bit, certainly no taking anything away from the amount of control you have over what News360 is calling their "reverse search" method of bringing content to the user. Much in the same way Google is attempting to connect people with the news in it's "Sparks" interface in Google+, their new social networking site, News360 has you create your own categories in which they'll supply you with news. Subject matter is all you really have to enter in if you like, and if you don't want to do such a thing, you can follow the categories News360 already has prepared for you. All of this is prepared in several different ways, it being your choice in the end how you view the news through this diverse app for Android.
As far as the new web-based look at the app and the iOS version go, it's a slightly different situation. Check out the images provided in the gallery below and you'll see how social networking integration is just slightly above what it is in the Android app thus far. This slight advancement along with the fact that it's still sort of rare to see a blog site such as Android Community in the mix are two updates we hope to see made in the next wave for Android tablets as well as handsets – Google Reader included!
Beyond that, this app is still a mightily magnificent vision for each of the main platforms, and yes, if you've got an HTML5-able web browser on any device (or so it seems,) you're able to run the web-based version of News360, a force to be reckoned with all on its own. Check out our full review of the original edition of News360 for Tablets as well if you'd like to see a slightly older version of the app.
[vms c3e67286080500df36a9]
Finally, remember that this app is [totally free on the Android Market] right this moment. Go grab it.