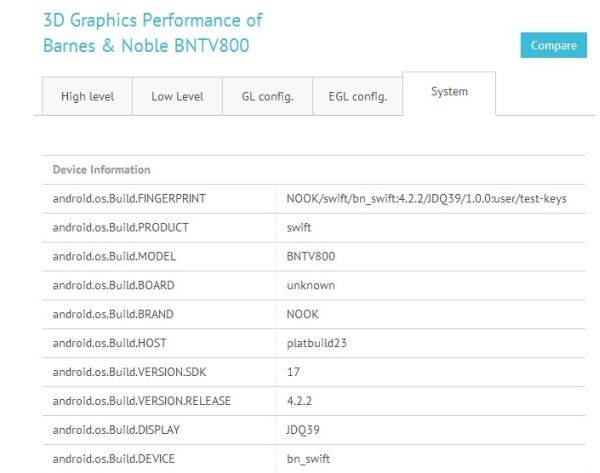 Barnes & Noble's newest Nook has shown up in benchmark testing, this time sporting a Tegra 4 chipset. The tablet, which has yet to be launched despite continued rumors it would be throughout the year, has taken another step closer to reality. Though Barnes & Noble haven't officially announced the device, benchmark results at least tell us this one is real, and probably coming soon.

Through GFX Bench, the new Barnes & Noble Tablet is clocking in at 1.8GHz, but the screen size isn't known yet. The model number of BNTV800 makes us think it's an 8-inch screen though we can't assume as much. The Digital Reader points out that the Nook Glow has a 6-inch screen, but the model number is BNVR500-A.
The device also hasn't made its way through the FCC yet, so it's not going to hit in the next few weeks. We'd like to think that it will be ready in time for Christmas, but Barnes & Noble will likely miss Black Friday for their new tablet, which is one of the biggest shopping days of the year. Some are calling it the Nook X, but no official name has been announced.
GFX Bench is one of many steps, and unfortunately the only one the new Nook has been seen on. With Barnes & Noble offering up the Play Store on their Nook series, it becomes a very viable tablet, and one we hope more customers consider when looking for a tablet. The screen is often best in class, and the Tegra 4 chipset on the newest addition promises to be snappy.