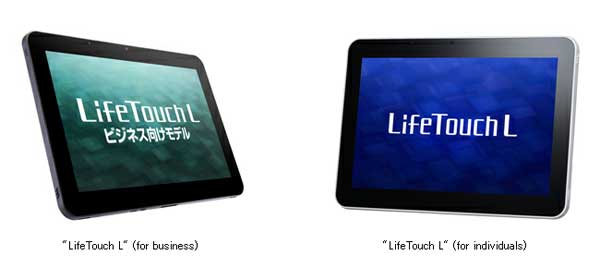 NEC has unveiled two virtually identical Android 4.0 tablets called the LifeTouch L. One version of the tablet is aimed at business users, and the other version is aimed at individuals. The difference between the two tablets appears to be software alone. Both tablets weigh 540 g and are 7.99 mm thick. Both tablets also run a 1.5 GHz dual core processor.
The processor is an OMAP4460 unit, and both tablets have a 10.1-inch display. The display is an IPS unit with wide viewing angles and a resolution of 1280 x 800. The version of the tablet for individuals is available with 32 GB or 16 GB of storage. The version for business users is available with 16 GB of storage only.
The tablet aimed at business users has a software suite to provide security and to help prevent loss and theft while providing secure access to corporate networks. The tablet aimed at individuals is designed to make it easy to find applications and use the tablet. It also has software to keep kids safe online. Both versions have a battery good for 13 hours the web surfing or 10 hours of video watching and have integrated Wi-Fi. Both versions of the tablet for individuals are set to release on July 5 with the business user tablet coming later in July. Pricing is unknown at this time.
[via SlashGear]