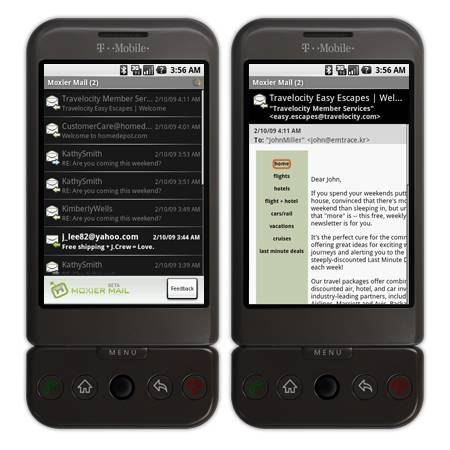 Moxier have announced what they're calling the first Exchange ActiveSync push email solution for the Android platform.  The Moxier Mail Beta, which is now available in the Android Market, gives T-Mobile G1 users access to their Microsoft Exchange servers, supporting full direct push synchronization of email. 
According to Emtrace, Moxier Mail works just like ActiveSync does on Windows Mobile handsets, meaning you'll be able to receive, reply and compose emails on the G1 and send them via your Exchange server. It's unclear what other functionality is supported; for instance whether you can search the Exchange server from the G1, or whether contacts and calendar entries are also synchronized.
Right now the Moxier Mail Beta is available free, but that looks set to change after March 31st 2009. We're assuming it will be a paid application – Emtrace have not suggested exactly how much – which might suggest that the Android Market will be offering paid apps by that date.
Press Release:
Emtrace releases the world's first Exchange ActiveSync® push e-mail for Android™

Emtrace Technologies USA, Inc. (www.moxier.com) has introduced Moxier Mail Beta in the Android™ market offering secure and direct push synchronization of corporate e-mail with Microsoft® Exchange server 2003 & 2007.

Direct push technology in Moxier Mail with licensed Microsoft® Exchange ActiveSync® enhances end-user productivity in performing convenient access to the exchange server on Android™-powered phone (G1). With the push e-mail solution, G1 users can receive corporate e-mails, reply to urgent messages and compose new e-mails like on Blackberry and Windows Mobile smartphones.

Microsoft® Exchange is the leader in North American markets for their messaging and collaborative software, and Moxier Mail can fit right in to G1 to support it for all exchange users.

Moxier Mail includes many years of experience in wireless mobile solutions with Windows Mobile, LiMo, ALP, PalmOS platforms and Emtrace hopes Moxier line for Android™ and App Store will expand with more software and services attracting users' needs.

Emtrace's Moxier Mail Beta is now available for a limited time in the Android™ market with full version of Moxier Mail V1.0 to be released thereafter.

Key features for Moxier Mail Beta includes,
-Direct push synchronization with Microsoft Exchange Server 2003 & 2007
-Easy to receive, reply, compose and delete Emails like on your computer
-Secure environment with SSL support
-HTML Email with Microsoft Exchange Server 2007

About Emtrace Technologies USA, Inc.

Established in 2008, Moxier builds software and services right for mobile cloud computing.