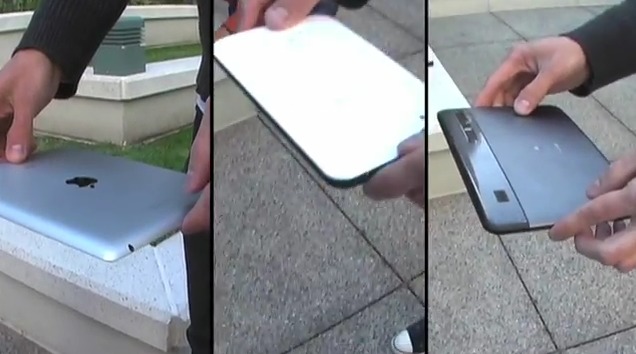 It is always painfully fun to watch these types of video clips. You know it is exciting, but deep down you wish they would just give you the toys instead. That is the the thought that always runs through my head. What we have here is a drop test of a few of our favorite tablet devices. That odd looking iDevice goes first, then the Galaxy Tab 7″, and last the heaviest of them all the Motorola Xoom.
Courtesy of ElectronicsBreak we have this fun little video to show just how bad things go when you drop something like an iPad or a Motorola Xoom just one time. You may get lucky the first time but for most of us it only takes one drop for things to go bad, especially the iPad 2 as it struggled.
Ready… 1, 2, 3, crash!
That is basically how this went for all three devices. It does look like the Galaxy Tab 7″ took the least amount of damage but still managed to break, the iPad 2 by far looked to suffer the most damage and the screen was probably completely unable to be viewed, last was the Motorola Xoom. It looked pretty close to the iPad as far as damage goes but it also is the heaviest of the bunch. I think its safe to say you should probably use a case, or be extremely careful with any tablet device, especially one that is 10″
[via YouTube] — Thanks Jermiah