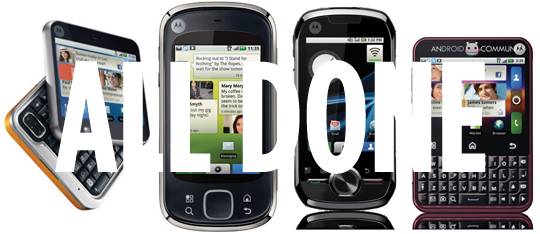 All those with Motorola devices on the new list of the abandoned phones list, at least as far as updates to Android. This list includes the Motorola Clique Xt, the Motorola i1, Motorola Flipout, and Motorola Charm. Both the Flipout and the Charm are currently (and will be forever more) at Android 2.1, while the Xt and i1 is and will now forever be on Android 1.5. Owners of these devices are more than likely going to be neither surprised nor emotionally damaged by this decision, especially since this is a basic procedure for a load of brands pushing out Android phones this day and age.
If you'd like to get a phone you're sure will be upgraded to Android 2.3 Gingerbread, your best bet is to buy a Nexus S or head to India to grab an OliveSmart V-S300 which is not only India's first Gingerbread phone but also one of the very few phones in the entire world right not to have Android 2.3 at all. Just this week there was another brand new Android phone Sprint hopes to be a blockbuster, the Kyocera Echo, that also will not be released with Android's newest system Android 2.3 Gingerbread.
One must sit back and consider that this situation is not the same as the newest version of an operating system on a desktop computer, at least not yet, in that the majority of the smartphone buying population does not expect the newest upgrade to be on their phone. Instead, like what's being shown quite clearly with the new Sprint phone, a double screen and a hinge will suffice. Hardware over software? You bet.
[via Computer World]