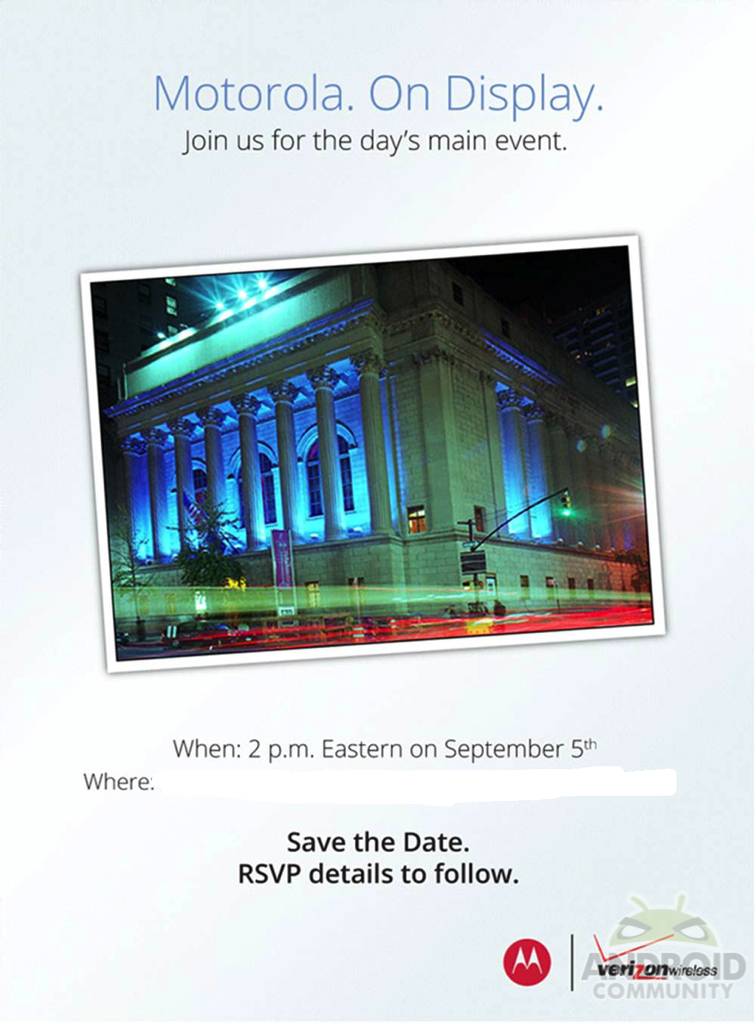 Motorola has just started sending out special invite only invitations for an upcoming media event scheduled for September 5th. Get ready for the DROID RAZR HD. Most likely this will be their announcement and official unveiling of the Motorola DROID RAZR HD for Verizon. The invite specifically hints at the "display" so it only makes sense.
Add in the fact that both Motorola and Verizon are stamped on the bottom, this will in fact be the DROID RAZR HD, unless Motorola has some other surprise device that has been flying under our radar. The DROID RAZR HD will be the first Motorola device with a 720p HD to grace Verizon Wireless, and of course it will be blazing along with their 4G LTE network.
We've seen countless leaks of the device but conflicting reports has the specs still up in the air. So far we know the DROID RAZR HD will come complete with a 4.5-inch 1280 x 720p Colorboost HD display, just like their Atrix HD. Run on Android 4.0 Ice Cream Sandwich and feature on-screen navigation buttons, a huge 2,530 mAh battery was spotted in the FCC documents, and recent rumors have suggested an 8 megapixel rear camera.
Previous leaks lead us to believe they'd be offering a 13 megapixel camera, but we still can't be certain. Other specs include the same 1.5 GHz dual-core Qualcomm S4 processor as the Galaxy S III, and hopefully you'll be able to unlock the bootlader. Latest rumors have stated the Motorola DROID RAZR HD will arrive sometime in October but we are hopeful Verizon gets this out before the iPhone 5 interrupts later in September.
We'll be there live for all the details on the new RAZR HD so stay right here at Android Community!