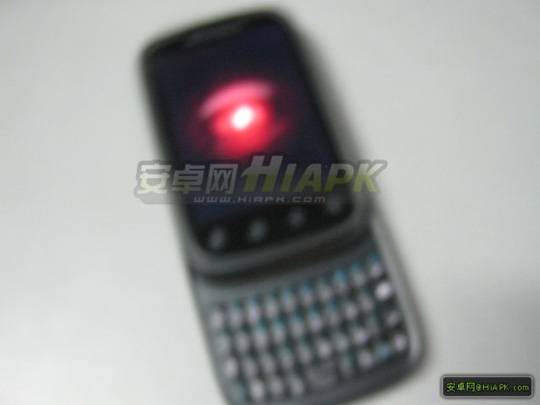 When it comes to Motorola, the DROID name is meant for high-end devices. That's why their DEVOUR handset didn't get the DROID title — it just didn't make the cut. And, as far as anyone of us here know, that game plan hasn't changed for Sanjay Jha and company. But, if these new blurry screenshots are any indication, then it looks like Motorola is looking to change up their high-end device line-up with a bit of a portrait slider-refresh.
There's no hard details on whatever device this is. It's obviously a portrait slider. It obviously has a keyboard that looks strikingly similar to the Motorola Charm's. And it's obviously booting up with that oh-so-familiar Droid eye. But, what does that tell us? One of two things, actually: either Motorola is changing everything around, and they're going to start shoving the DROID title on every Android-based handset they've got planned for Verizon. Or, they're planning on putting the specifications necessary to make a high-end device into a portrait slider.
Let's face it: just because it has a certain form factor, doesn't mean it's going to be a mid-range device. Just look at the Palm Pre and Palm Pre Plus, folks. Portrait slider with a 3.2-inch touchscreen — but definitely not mid-range by any other notable feature. So, what's Motorola's plan? We wish we knew, but hopefully it all gets cleared up soon enough. Let us know in the comments if this handset is something you'd want in your collection.
[via Android and Me]