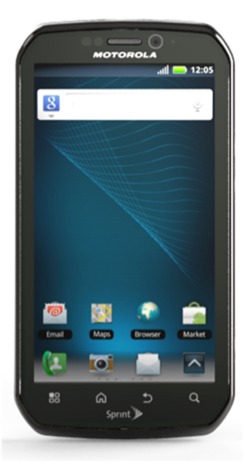 This is the powerhouse that eclipses Motorola's last big gun, that being the ATRIX 4G. With a name like PHOTON it certainly better be doing some eclipsing, and it will with a selection of Motorola factory-made accessories, a rather unique diamond-shaped form factor, dual cameras, Android 2.3 Gingerbread, and a 1GHz Tegra 2 dual-core processor from NVIDIA. Does that mean I'll be able to play all my favorite Tegra Zone apps? Why yes, that is what that means. While this phone isn't quite the first to the market with any one of these specs alone, together this is a whallop of a dual-core "4G" device to be sure.
You know what the most important feature is here, and one that makes yours truly stand up and yell YES!? It has a kickstand. That DOES make it the world's first dual-core kickstand-having Android phone, and for that it can be proud. The PHOTON also has international GSM capabilities, a VGA camera on the front and an 8-megapixel camera on the back with the capability of capturing 720p video, and it's got the ability to play 1080p video over HDMI, Motorola Media Link, "Mirror Mode" which is essentially HDMI mirroring again, and you'll be doing just fine looking at the display itself at 4.3" qHD.
And why would we compare this phone to the ATRIX unless it's got docking modes galore? Why, because it DOES have docking modes galore – plug it right into that special Motorola Multimedia Dock dock you love so well and work in mobile desktop mode. Plop the device in your standalone dock for some amazing HDMI out or stereo system action. Do whatever you like!
This device has the ability to have up to 48GB of storage on it. That's more than you'll ever use, right? The 48 comes from 16GB of onboard storage and a microSD slot that can accept up to a 32GB card, as is standard with these rock and roll phones from the future we've been seeing over the past few months. Don't have 32GB microSD card holding ability? Get atta here!
This device connects over 3G and 4G speeds with the ability to have up to 8 devices connect to the internet via mobile hotspot. As this is a GSM ready device, you'll also want to know that you can only connect one single device whilst roaming on GSM, and that this ability will not be available out of the box, coming instead in a later update down the line.
The PHOTON has a generous 1700mAh battery for lots of uptime, Enterprise Security including remote device management and data encryption, and of course the goodies: HD Multimedia Dock and Car Dock, both of them available closer to launch. Launch date for this device is at the moment still not revealed, but Motorola's hinted at Summer 2011.