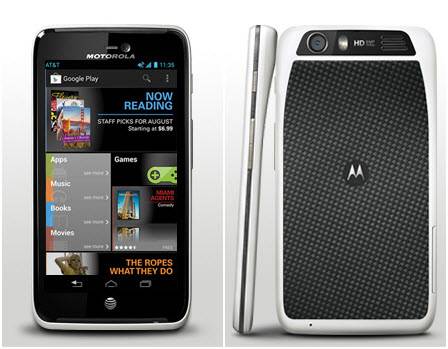 We already saw plenty about this phone last week when Motorola accidentally posted it to their website, but this morning Motorola has officially announced their all new Atrix HD smartphone for AT&T. The new Motorola Atrix HD will be a 4G LTE device, run Android 4.0 Ice Cream Sandwich, and will be their first phone now that Google owns the company.
The new Atrix HD takes everything you loved about the past versions and beautifully blends them into a design similar to the DROID RAZR. It also has one of the best displays of any smartphone on the market. Many larger screens like the 4.8-inch Galaxy S III has a 1280 x 720p display but the Atrix HD is only 4.5 inches with the same resolution — giving it a 329 PPI that will be extremely crisp. Motorola is touting it with their new Colorboost display technology.
The screen beats the iPhone's so called "retina" display, and the specs are quite nice to given the price. Motorola and AT&T have wrapped up this phone with the 4.5-inch screen, Android 4.0 Ice Cream Sandwich, the same Qualcomm 1.5 GHz dual-core processor as the Galaxy S III, 1GB of RAM, 8GB of internal storage and a zero shutter lag 8 megapixel rear camera. The phone also rocks a 720p capable 1.3 front camera, a 1780 mAh battery, and Motorola's brand new widget. It's called the "Motorola Circle Widget" with "at-a-glance" access to your notifications, time, weather, battery, data usage, and settings.
Like most Motorola devices as of late, and the RAZR, it features DuPont Kevlar coating on the rear so it's extremely durable, as well as splash guard for the occasion water spill. As usual we have micro-USB for charging and micro-HDMI for easy mirroring content to your HDTV. The Motorola Atrix HD will be just $99 with a new 2-year contract and be speeding along with AT&T's 4G LTE, and you can expect more details for Bell Canada in the coming weeks.
[device id=2966]