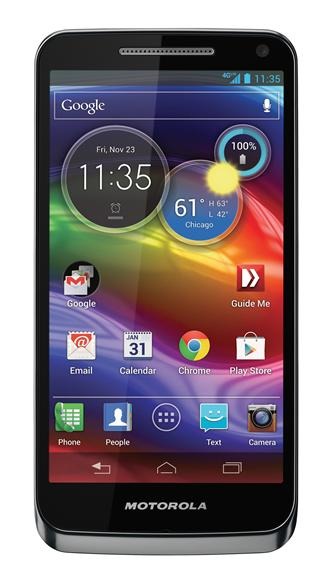 It looks like US Cellular is primed to get a brand new Motorola handset, this one called the Electrify M. As the name implies, it isn't all that different from the popular DROID RAZR M, and to make things even better, it'll be compatible with US Cellular's 4G LTE network. It's also relatively inexpensive, provided you sign a two-year contract and take advantage of a $100 mail-in rebate.
According to Motorola and US Celluar, the Electrify M features a "virtually borderless" 4.3-inch display, the same size as the screen found on the RAZR M. Motorola isn't talking about the resolution of the display just yet, but it seems safe to assume that it'll be similar if not the same as the RAZR M's qHD (960×540) resolution. The Electrify M is also packing an unnamed dual-core processor clocked at 1.5GHz, as well as a 2,000mAh non-removable battery.
The Electrify M sports an 8MP rear-facing camera, and it will be running Android 4.0 out of the box. Don't let Ice Cream Sandwich dissuade you though, as Motorola says this is one handset that will eventually get an upgrade to Android 4.1 Jelly Bean. The device itself is scratch and water resistant, and it even comes equipped with NFC. All in all, it isn't too bad a package, but what we know about the internals suggests that the only differences between the Electrify M and the RAZR M are cosmetic.
So, what's it going to cost? If you live in an area that has 4G LTE service from US Cellular, you'll have to pay $99 after a $100 mail-in rebate. If you don't live in a US Cellular LTE service area, the price goes up to $149 after the same $100 rebate. The Electrify M will be available online on November 8 and in US Cellular stores on November 9. Are you picking one up?