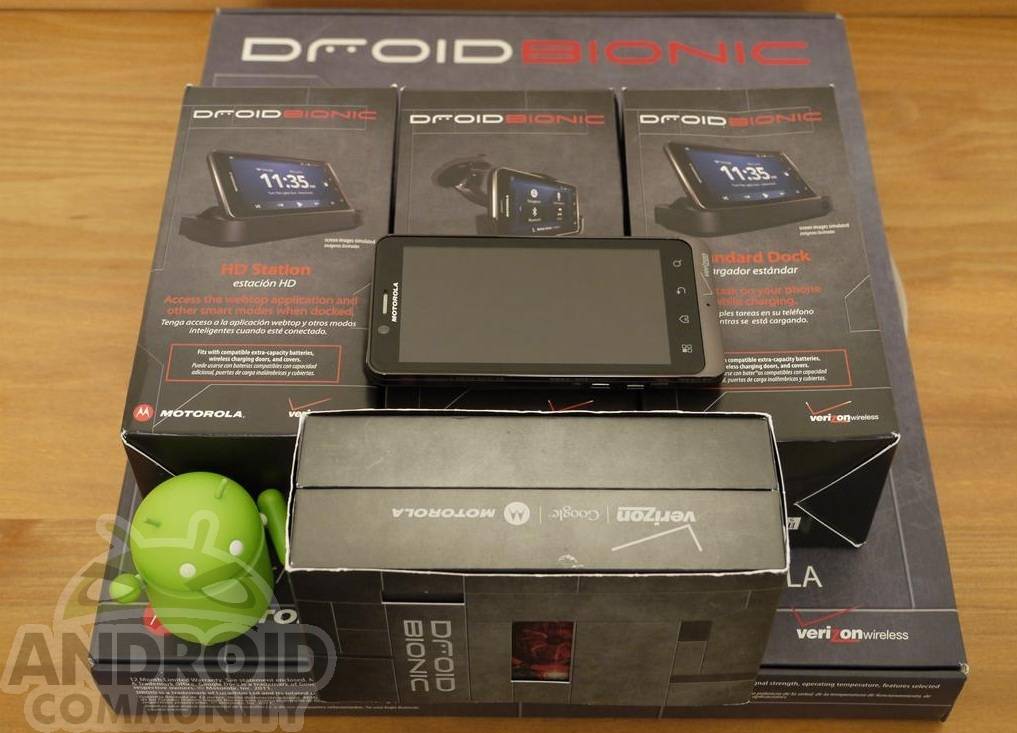 It's finally here! The Motorola Droid Bionic has officially landed and today Verizon announced that it will be available starting Thursday, September 8th, for just $299. We have been waiting for what seems like a year for the Droid Bionic and now that it is finally here we at Android Community have plenty of videos, pictures, and benchmarks for you guys. This is our ultimate hands-on and unboxing video of the Motorola Droid Bionic and all of the accessory docks too. Check it all out below.
What we have the pleasure of sharing with you all today is the Motorola Droid Bionic, the HD Station Dock, Standard Dock, Car Navigation Dock, and the Motorola Droid Bionic Lapdock — yup we have it all and you can see everything in the videos below as well as a full in-depth review that is coming soon. We'll start with our hands-on and unboxing videos and then just to be nice we have a few preliminary benchmark and speedtest results for those that want to see it right now.
Motorola DROID Bionic, HD Dock, Car Dock and more hands-on and unboxing video
[vms c81a9e69fee1cea4a087]
I'm going to pretend for a minute that you are all new and don't know anything about the Bionic (although we all know everything already). The Droid Bionic is the new flagship Android smartphone coming from Verizon Wireless. This is their very first 4G LTE phone that also is powered by a dual-core processor — Both speed AND power!
We have a TI OMAP 1.0 Ghz dual-core processor, 1GB RAM, a brilliant, bright, and crisp 4.3″ qHD 540 x 960 high resolution display, Android 2.3.4 Gingerbread, an 8 MP camera on the rear with dual LED flash, and a 2 MP lens on the front for quality video chat. The Bionic also comes out of the box with 32GB of storage, that is 16GB of internal storage as well as an included 16GB class 4 micro SD card. Along with micro HDMI-out for just about everything you'd ever need from mirror mode to game on your HDTV, to using the webdock accessories and more.
Enough of that, we already knew this phone was basically amazing, lets see the next video shall we.
Motorola DROID Bionic Lapdock hands-on and unboxing video
[vms 6fa333f8b44b610d9569]
I must mention that so far this phone is truly stellar. I know I use that word occasionally in my reviews but so far I'm actually really really impressed with the Droid Bionic. Using the latest Moto Blur UI on phones like the Droid X2 and others I was a bit worried but they've really stepped up their game. From extremely fast and stable performance with the dual-core, blazing quick network speeds with 4G LTE, and a much improved overall user interface this is Motorola's best phone yet, it truly is pretty epic.
I don't want to get into specifics too much as you'll all need to wait for my full out in-depth review of the Bionic and all the accessories that is coming very soon but I do have some benchmarks and awesome speedtest results to show you all really fast.
DROID Bionic Speedtest and Benchmarks
First up we have 4G LTE speedtest results and lets just say Verizon is well ahead of the pack. My 4G LTE results were amazing inside, outside, and even while driving home (yes I couldn't wait and opened it asap). I'm getting an average of around 9 Mbps download and 2 Mbps upload speeds consistently, with performance peaking over 11 Mbps down and 3.5 Mbps up. Basically that compares to and beats many peoples home internet connection. Say hello to true 4G LTE guys.
I've ran multiple tests and I'm achieving these types of quick and impressive speeds consistently as you can clearly see in the image below.

Next up I also took a quick run or two of Quadrant Pro since that is still everyone's favorite benchmark application. It might be hard to see in the image but the Droid Bionic scores well over 2600 out of the box, completely stock. My HTC Sensation 4G with a faster 1.2 Ghz dual-core only scores around 2100-2200 stock. That makes the Droid Bionic only second to the Samsung Galaxy S II with out of the box performance.
While you can expect more benchmarks in my full review coming soon I've also snapped a few photos running CF Bench too. Again coming in second only to the SGSII.

I don't want to give away all the details and everything on the first date, we still have plenty more benchmarks, videos, photos and more coming soon. For now this was just a quick rundown for all you readers that have been patiently waiting for this phone to finally arrive. I've added a few more photos in the full size gallery below so be sure to check all of those out for a better view.
I'd like to take this moment to mention that if anyone would like us to try anything specific, or you have a request of something you'd like to see in the full review please share your questions, thoughts and more in the comment section below and I'll be sure to do what I can. Feel free to check back all week long as we review everything shown in the videos above. Who is getting a DROID Bionic?
Enjoy!
[device id=1476]