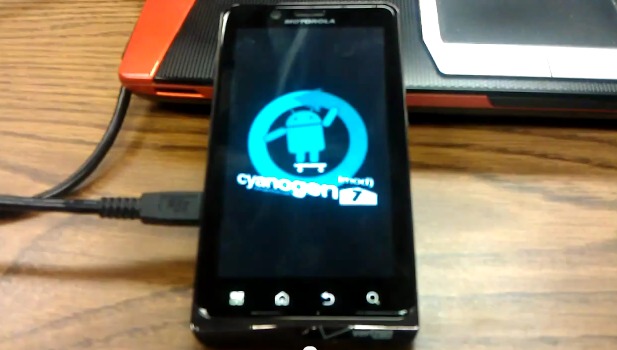 Well folks, that sure was fast. It appears a few sneaky developers have already been working day and night and we now have a fully bootable CyanogenMod 7 for the DROID Bionic. I know a few people will be more than happy to hear and see this so I'll cut the chase and show everything in the video below.
Within days of launching we saw plenty of development on the much anticipated phone. First it was quickly rooted then just yesterday they achieved a working recovery, and now we have CM7. Everyone should go cheer from their rooftops then check out the video below:
DROID Bionic with CM7

OK, so I know you're all probably extremely excited if you bought the Bionic but we still have a ways to go. They've yet to release the bootstrap application that will allow 3rd party ROM installation but that is coming soon. According to the man you should all be thanking @cvpcs the Bionic with CM7 has plenty of work left and this is no where near alpha. Basically this is the first step, CyanogenMod 7 is coming, but it will be a while. As always these things take time and so far running CM7 the Bionic wont charge, and things like sound and graphics acceleration need some work.
Feel free to follow him on Twitter at @cvpcs for more information and updates as the DROID Bionic CM7 project moves along, and please don't ask for ETA's as you'll most likely be ignored. That is the first rule of Fight Club — I mean CyanogenMod.
[device id=1476]