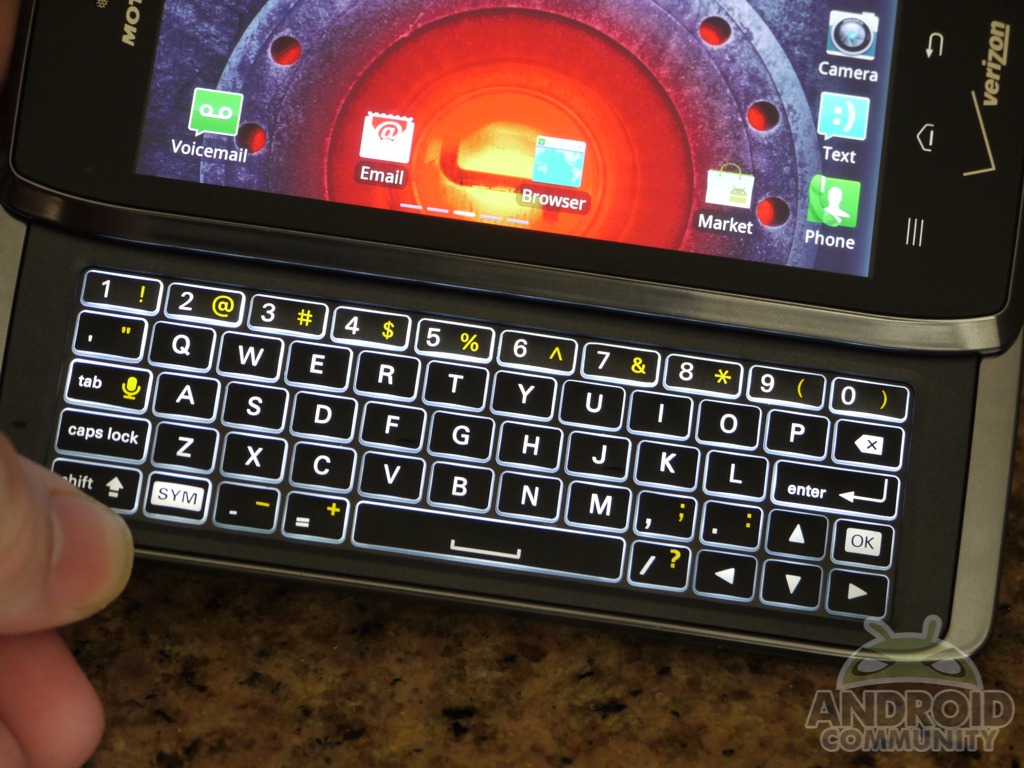 We can finally say hello to the Motorola DROID 4, available starting today from Verizon Wireless. Being the first DROID slider with all the essential main ingredients: dual-core, 4G LTE, and obviously a slide-out QWERTY hardware keyboard can this rule them all? Or will it just be another DROID like the rest? If you love a hardware keyboard or are a die-hard fan of the original DROID you'll want to stay tuned for the verdict.
When the original Moto DROID landed it was a huge success that has slowly lost wind with large screens, improved on-screen keyboards and thin designs. Motorola has held true to what made them so popular and their latest release might be just what you've been waiting for. Lets start with our Droid 4 hands-on and unboxing.
Hardware
The DROID 4 contains an impressive 4.0″ qHD display with a 540 x 960 resolution. Same as the larger screened but extremely similar DROID RAZR. Making the screen a little sharper and crisper but it's hardly noticeable. The chassis is larger than most but given the internal specs and the awesome keyboard that is to be expected. While slightly fatter than the DROID 3 it has that all important 4G LTE. Other than the impressive 5-row QWERTY keyboard with an edge-lit LED design, the rest of the goods are under the hood. That is a 1.2 GHz dual-core OMAP 4430 processor, 1GB of RAM, 8GB of internal storage and then 4G LTE. We do have a micro-SD port for extra storage, but that is both hidden and extremely difficult to access. Powered by Android 2.3 Gingerbread and Motorola's ever-changing interface overlay.
That isn't all either. Motorola's slowly made huge strides in their camera performance and the 8 megapixel rear and 1.3 front cameras on the DROID 4 are above average to say the least. Definitely better than the horrid camera inside the Bionic, that is for sure but more on that below. Now regarding size the D4 comes in at 12.7mm thick, being about the exact same as the DROID 3 before it while still packing in 4G LTE. Put it next to the 7.1mm DROID RAZR and it feels extra fat, and extremely heavy — which it is. The extra weight stemming from the QWERTY keyboard, LED lights and added bulk of the larger screen.
Keyboard
First since this is on everyone's mind I want to mention the new keyboard — it is awesome. It truly has impressed me for the few days I've been using it and I've became extremely quick and efficient on it. Keyboards aren't really for me, but this is almost making me rethink it — if only it weren't so fat and heavy. The edge-lit keys are impressive and the light sensor automatically turns the backlight on or off depending on the situation. Not only does this save battery but it works well and is extremely responsive.
the 5-row keyboard is nicely spaced, and has a perfect sense of height and motion during use. With a PC-like chicklit design and layout you'll be comfortable right away. The amount of response from the clicks feels great and you won't ever be wondering if you've pushed hard enough. Comparing it to the DROID 3 keyboard I'd say Motorola has made huge improvements to the design, layout, feel, and durability.
It's safe to say the Motorola DROID 4 is the new king of QWERTY smartphones.
Software
On the software side of things we are graced with Android 2.3.5 Gingerbread and the usual array of apps from Motorola, Google, and Verizon. Motorola's added their visual changes and are almost identical to the DROID RAZR. The new UI seems slightly more polished with glowing lights and fancy widgets. The usual Motorola and Verizon app bloatware is included but they've also been improving the Moto Webtop that is installed. The D4 will work with the latest Motorola Lapdocks via the micro-HDMI and USB ports on the bottom side.
From MotoCAST, MotoACTV, Verizon Video, Slacker Radio, Netflix and NFL Mobile you'll have plenty of things to keep you busy out of the box should you choose. Overall if you've used any of Motorola's recent devices the performance of the software is about the same. Things are smooth, stable, and overall quite fluid. I'm not the biggest fan of the Motorola UI changes but the last few updates are slowly growing on me. We'll see how that all changes with Android 4.0 Ice Cream Sandwich later this year.
Performance and LTE
Performance with the 1.2 GHz dual-core processor and 4G LTE are exactly as we'd expect. The dual-core power provides plenty of gas for this phone and you wont see any issues. In Quadrant Advanced the benchmarks were favorable scoring just under 2800 completely stock. Higher than Tegra 2 devices and almost all 1.2 GHz Qualcomm powered HTC handsets.
While 4G LTE results are subjective to the location, market, and signal with two bars here in my local city of Las Vegas I saw decent speeds that weren't the highest, but not the lowest I've seen. Averaging around 9 MB/s down and 7-9 up. The signal seems to be more stable than the Galaxy Nexus, but that is an entirely different story for another day.
Battery Life and Camera
The DROID 4 comes with a built-in (non-removable) 1785 mAh battery that should last plenty long — but it's no RAZR MAXX. During regular usage the first day I received around 8 hours of medium to heavy usage of calls, texts, gaming, and updates. Lighter days 11 hours was pretty common so it's safe to say you'll be able to go an entire day on a single charge. The battery however, just like the bootloader is under a lock and key. A tiny and easy to lose key comes in the box (pictured below) for removing the back. Which also houses the micro-SD card. If you need to change it on the go — good luck. I think this design is a bit ridiculous but to each his own I guess.
Back to that camera. Motorola has finally stepped it up with the camera. The focus is fast, same goes for the shutter speed and the results are no longer fuzzy and over-exposed. They could still use some work but here's a quick example with more in the gallery below.
Wrap-Up
This is the best DROID yet but when it all comes down to it the hardware is great, but the overall space for this phone in the market is not. With RAZR thin phones, quad-cores on the horizon and Android 4.0 Ice Cream Sandwich already on the market this phone is a few months too late. Not to say it doesn't have upside because it does and can still be considered a top-tier smartphone. If you want a hardware QWERTY keyboard with your smartphone the DROID 4 is absolutely hands down the best device on the market and will make ANY owner happy. If you want the latest and greatest this wont be for you, but it sure comes close. For me the choice is DROID 4 or the Galaxy Nexus — and I own the latter.
If you have an aging DROID 2, DROID Charge or many other Verizon devices and would like to get into a great smartphone the DROID 4 is an excellent choice. You'll just have to decide if the added bulk and weight from the keyboard is worth it. As long as Verizon doesn't release a DROID 5 this summer I see this being the best QWERTY smartphone for months to come.
Enjoy the rest of our photos from the gallery below and check out the timeline for more details regarding this device.
[device id=2148]