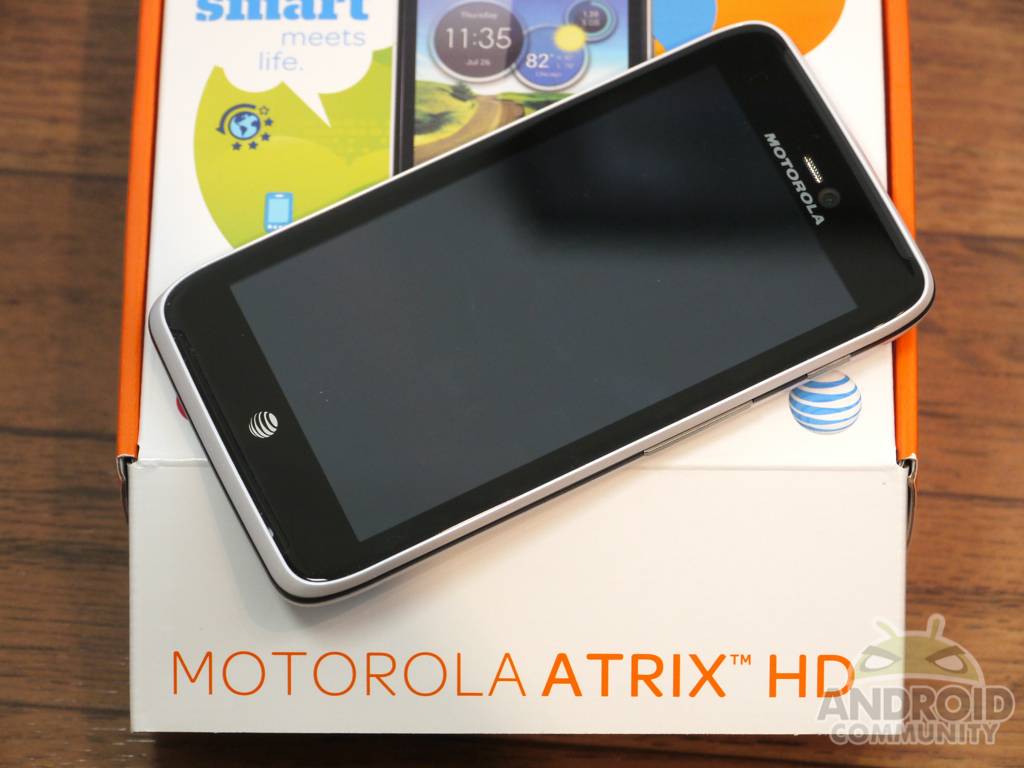 AT&T and Motorola's latest venture has arrived here on the Android Community doorstep. We are talking about the Motorola Atrix HD with AT&T 4G LTE. Unlike the preview two Atrix devices running on HSPA+ "faux 4G" the Atrix gets full speed LTE to keep things speedy. There's tons to talk about other than the LTE with the Atrix HD though. Such as no capacitive touch buttons, and out of the box runs Android 4.0 Ice Cream Sandwich — no waiting for an update. Head down past the break for our hands-on video and a few quick pictures.
The Motorola Atrix HD marks an important milestone for both Motorola and AT&T. This is the first Motorola device now that Google has control of the reigns after they bought out Motorola Mobility. This is also the first Motorola phone to ship in the USA out of the box running Android 4.0 Ice Cream Sandwich, and sporting no buttons. Everything is handled on-screen. Just like the Galaxy Nexus the Atrix HD has on-screen navigation keys using up part of that 4.5-inch Colorboost HD display. Let's talk specs:
The Atrix HD is a pretty impressive all around device, and the only area other competitors beat it are the screen size. It runs on the same 1.5 GHz dual-core Qualcomm Snapdragon S4 processor as the HTC One X (AT&T) and the Galaxy S III in the US. The difference here is a smaller screen and it only comes with 1GB of RAM. We have a 4.5-inch 1280 x 720 full HD Colorboost display with an amazingly vivid and crisp 330 PPI (pixels per inch) that beats the iPhone Retina display and more. It comes with 8GB of internal storage but only about 5GB is usable, but they've added a micro-SD slot for extra storage options.
So far Android 4.0.4 Ice Cream Sandwich runs extremely smooth and fluid. It doesn't have Jelly Bean's "buttery" smoothness yet but that update will come eventually. The Atrix HD isn't as thin as the RAZR, coming in at 8.4mm at the thinnest point, but it still relatively sleek while remaining sturdy with the Kevlar coating on back. The slight changes to ICS seem pretty minimal from our short time with the device, but clearly you can tell this stems from Moto Blur. We'll reserve our judgement for a final review coming early next week.
For now you'll want to check out our unboxing and hands-on video below of the all new AT&T 4G LTE powered Motorola Atrix HD as we give the hardware and software a quick tour, then enjoy the hands-on pictures and speedtest provided below. If you have any questions (other than the locked bootloader) feel free to drop us a comment and we'll try to add them into our full review. So far our initial impressions are better than I thought they'd be, and it feels like a great blend between the Atrix 2 and the DROID RAZR. It will be available from AT&T Sunday July 15th, for just $99. Stay tuned!
[vms 072aea8801faf8a492be]
[device id=2966]