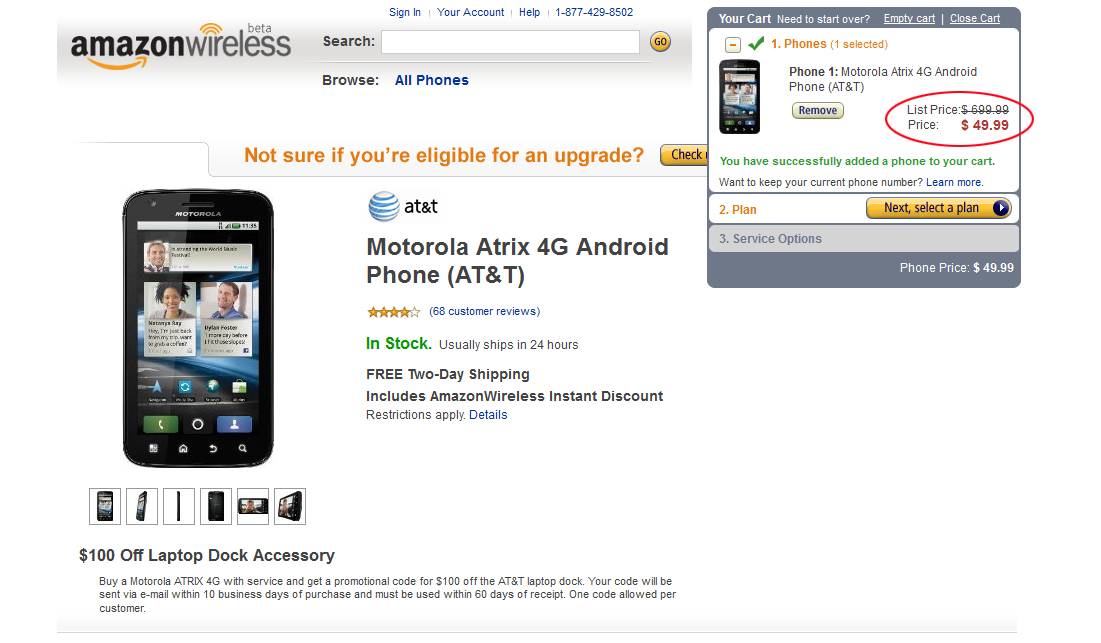 This weekend, Amazon put the Motorola Atrix on sale for $49.99 with a two year deal. And they were VERY quiet about it too. The sub $50 price tag is the lowest the Atrix has been advertised for to date and shows that Amazon is being pretty aggressive with this Android phone. The sale is still available until midnight tonight, so if you've been wanting to get your this new 4G phone from AT&T, you better hurry, because the clock is ticking.
One word of warning though, the price is for NEW customers only, if you're an existing customer with Ma Bell, you'll be looking at a $99.99 price to upgrade. Amazon is also offering $100 off the Laptop Dock Accessory for those who purchase the phone as well. A coupon code will be emailed within 10 business days after purchase and will be good for up to 60 days. Sounds like a screaming deal if you can jump on it.
The Motorola Atrix is the flagship of AT&Ts 4G network. It won the Best in Show from CES this year for it's innovative design and accessories to turn it into a viable laptop computer. It has a 1 Ghz dual core Tegra 2 processor, 1 GB of RAM, and a 4 inch qHD touchscreen display with 24 bit color. It's powered by Android 2.2 (Froyo), sadly, but we're certain Gingerbread will come as soon as AT&T gets around to it. So if you're not an AT&T customer and are just looking for an excuse to get the Atrix, here it is!
[via UnWired View]