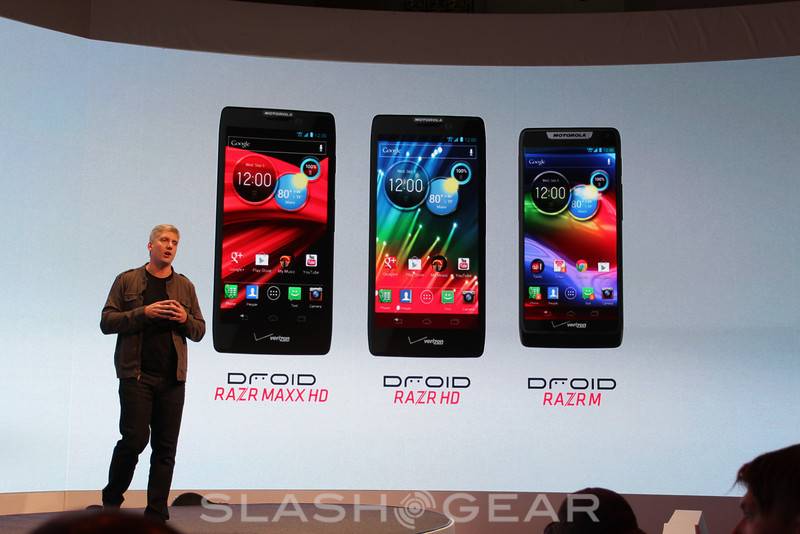 Today Motorola announced three new Android 4.0 Ice Cream Sandwich powered smartphones for Verizon Wireless at their press event in NYC this afternoon. Two were expected and one was somewhat a surprise. That being the RAZR MAXX HD. The DROID RAZR HD and RAZR M have leaked multiple time the last month, but rumors of a MAXX version were squashed long ago. Head down below for full details.
The Motorola DROID RAZR HD and DROID RAZR MAXX HD are a subtle yet much improved smartphone over their older counterparts. The original RAZR had a wide 4.3-inch screen of low resolution, and an aging processor powering Android. Today they've matched the top-tier crowd once again by announcing the all new RAZR HD complete with a 4.7-inch Super AMOLED HD display (1280 x 720p) and Android 4.0 Ice Cream Sandwich.
Just like previous models they are super RAZR-like thin, wrapped in Kevlar coating for superior protection while remaining lightweight, and are powered by Verizon 4G LTE. The regular RAZR HD comes in at just 8.3mm thin while the bigger brother in the MAXX is a respectable 9.4mm instead for the added battery under the hood. Full specs you ask? These devices are powered by the popular 1.5 GHz dual-core Qualcomm Snapdraon S4 processor, 1GB of RAM, 32GB of internal storage (with micro-SD support) 8 megapixel rear camera with LED flash, 1.3 VGA front for video chat, and run on Android 4.0 ICS. Motorola showed them off running Jelly Bean here today — so we can expect that update to arrive very soon. The devices however will launch with Ice Cream Sandwich. The RAZR HD gets a large happy-medium 2,530 mAh battery while again the RAZR MAXX is 3,300 mAh promising 21 hours of talk time, 13 hours of video playback or eight hours of continuous web browsing.
Then Motorola also announced the DROID RAZR M which has been receiving tons of play in the news as of late. This edge-to-edge display packing smartphone is smaller than the original RAZR while having the same size 4.3-inch qHD (960 x 540) AMOLED display. It is also powered by Android 4.0 Ice Cream Sandwich and the 1.5 GHz dual-core S4 processor as the others. We still have 1GB of RAM and an 8 megapixel camera but instead comes with 8GB of internal storage. This is Motorola's new budget smartphone. It is available for pre-order starting today for only $99 with a new 2-year contract, and will hit the streets starting next week.
We have hands-on pictures and videos coming up in a matter of minutes thanks to our sister site SlashGear, so stay tuned for a quick peek at the all new DROID RAZR line for Verizon Wireless.