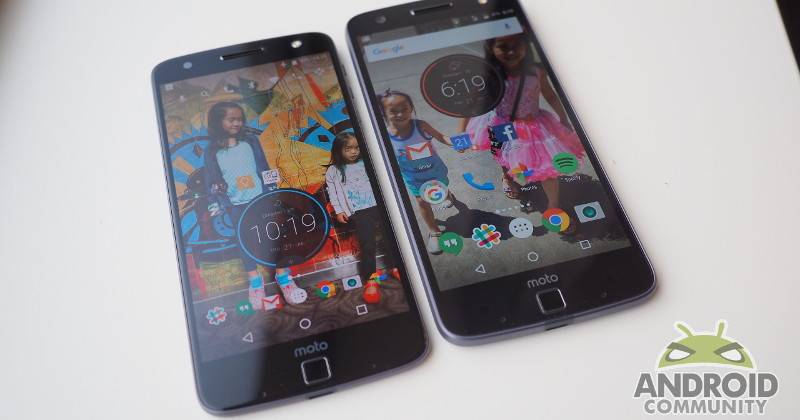 Moto, also known as Motorola, is at a crossroads. Once the darling of the pre-smartphone mobile market, the company is now a shell of its former self, passed down from one owner to another, from Google to Lenovo. The Moto Z and the Moto Z Force are the culmination of that long and arduous journey. It is also the litmus test of whether it still has what it takes to be a major player in the market, a challenge it set up for itself when it called to mind the RAZR. Dressed in Verizon's "Droid" clothing, we take a deeper look into the Moto Z Droid and especially the Moto Z Force Droid to see for ourselves whether these, together with their novel Moto Mods, have really transformed the smartphone as we know it.
Specs
Let's jump right into the specs, just to get the numbers out of the way. The Moto Z Droid and Force Droid are, in all honesty, practically identical. It would actually be easier to talk about where they differ rather than what they have in common. For all intents and purposes, the Moto Z Force Droid is, of course, the higher end of the two. It is the one that has been gifted with a larger battery pack, for example. But it's real crowning glory is its main camera. Or so it would seem. More on that in a later review.
That's not to say that the Moto Z Droid is in anyway gimped. If you're somewhat short on budget and don't really mind settling for simple photos and videos, the Z Droid is perfect for that. Especially if you consider that it is fully compatible with Moto Mods as well.
Design
The Moto Z Droid siblings are definitely not lacking in the looks department, save perhaps for the very square fingerprint scanner and the two sensors flanking said scanner, the latter painfully conspicuous if you have a white front plate. That said, the Moto Z Droid and Moto Z Force Droid dare to be different in their design, so you won't be able to easily accuse them of aping someone else's revered looks.
While most of its contemporaries have gone with curved backs, curved display edges, or both, the Moto Z Droid decides to be contrary and be quite flat. Well, except for what is commonly now called 2.5D front glass, which curves just a wee bit at the edges. The backs of the Moto Z Droid and Moto Z Force Droid are completely flat, and it wasn't simply an aesthetic decision. It's simply easier to latch a Moto Mod if the surface is flat and mostly bare. If you want a curved back for easier holding, there are some Mods that deliver that in addition to some functionality.
OK, the back isn't completely flat. You have that camera, which protrudes not so subtly from the smartphone's rear. Here, again, Moto decided to be different. If you're going to have a camera sensor that juts out, might as well make it big, right? And big it made them, for both models, despite the Moto Z Droid having a less capable camera than the Z Force Droid. But it's no ordinary camera hole either. Moto used the design of its Moto 360 smartwatch for inspiration, flat tire and all. Some might like it, some might hate it. But it's different.
While the Moto Z Droid and Moto Z Force Droid are near identical in size and design, it's on their edges that the two diverge, but only ever so slightly. For one, the Moto Z Force Droid is necessarily thicker, thanks to its larger battery and more featured camera. But the design of the edges also differ subtly. The edges of the curve in a single, unbroken fashion, creating a smooth surface. The Moto Z Force Droid, in contrast, has a chamfered edges that create an angled, "V" edge. While it does give it some character, there is always a danger that it would like cutting into the user's palm.
Of course, specs and looks do not a smartphone make, and the Moto Z duo definiely have their fair share of notable features on top of the already premium hardware.
Ruggedness
For example, there's the "water repellent nano-coating" feature for both models. It's not exactly as thorough as, say, Samsung's advertised (though contested) waterproofing for the Galaxy S7, but it's going to survive a few splashes and spills. Just try not to take it with you to the shower or the pool.
But while the Moto Z Droids might not exactly be hydrophobic, they make up for it in toughness. Especially the Moto Z Force Droid, which has been demonstrated to be tough as nails. That's especially thanks to ShatterShield, a special ingredient from Verizon's secret labs. ShatterShield provides added protection by layering extra strong materials on top of the smartphone. To some extent, however, ShatterShield is like a screen protector, though you can only really replace the very topmost layer using a specialized kit from Verizon. That said, the process isn't for the faint of heart at all.
Performance and Battery
The Moto Z Droid and Moto Z Force Droid are no slouches, which isn't really surprising considering they both sport the same high end specs present in most flagship smartphones this year. That said, slapping on specs doesn't exactly mean you'll get the best performance, so it still feels satisfying to discover that Verizon's top tier Android smartphones perform superbly well.
But with greater specs comes greater battery drain. Depending on your use case, you could get through a day on a single charge. Most likely, however, you will be reaching for some power source. The good news is that you won't have to reach far, or at all, provided you get one of those Moto Mods that offer extended battery life, like the TUMI Power Pack. Sure, you could simply get a run of the mill power bank or one of 'em rugged power cases, but where's the fun in that?
Also a plus, the Moto Z Droid naturally boasts of Moto's fast charging "TurboPower" technology to minimize the amount of time you'll spend with your smartphone attached to some source of life.
Features
Moto was one of the first Android OEM to put an emphasize on voice commands, back when Siri was becoming a hot topic. It practically ushered in the "OK Google" phase, which eventually became known as Google Now. Ever since that feature debuted in the Moto X in 2013, Moto has been refining its voice assistance features every generation. The Moto Z Droid and Force Droid Editions are, of course, no exception. In fact, to improve that feature, Moto has put an additional mic at the back of the smartphone to help with those voice commands. The one flaw in that design, however, is that the mic will be covered when you slap on Moto Mods. Good thing there are other mics for backup.
It has already been discussed to no end how the the Moto Z has employed a USB-C port for charging and data transfer. By itself, that fact isn't really that phenomenal. However, it does come at a price. Moto has, like what Apple is expected to do, done away with the venerable headphone jack. That means two things. One, the Moto Z Droid and its pal are thinner than most smartphones, without a 3.5 mm to make room for. It also means your favorite wired headset isn't going to work out of the box. At least not without a somewhat flimsy adapter that does come out of the box. Expect to see more, and hopefully better, of this type of accessory as more and more manufacturers move over to USB-C audio. As for the USB-C port itself, it supports USB 3.1 for fast transfer speeds.
Wrap-up
The Moto Z Droid and Force Droid definitely checks off a lot from the smartphone checklist, but what we've seen here is really only the tip of a large, two-piece iceberg. In our next installments, we will dive deeper into two features that truly make these smartphones worth talking about: the promise of super smartphone camera and a slightly different take on the modular smartphone dream.