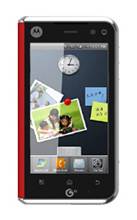 The MOTO MT710 is a nice and stylish looking smartphone, it is based on the most advanced version of the OPhone platform. Many people think of it as a DROID without the hardware keyboard. The MOTO MT710 has a 3.7″ FWVGA screen with 480 x 854 resolution, and a 5-megapixel camera.
The phone will use China's homegrown 3G standard and a China Mobile operating system, which is known as the Ophone. It will access the internet using China Mobile's TD-SCDMA (Time Division Synchronous Code Division Multiple Access) network or WiFi. The MT710 will also be able to download applications via the Mobile Market from China Mobile.
A China Mobile representative said that the MT710, will go on sale in China on December 28th of this year. There's no word on pricing just yet, but the device – like all Ophones – will use a version of the Google Android operating system, which is modified by China Mobile. To check the full specifications of this Motorola phone, click here.