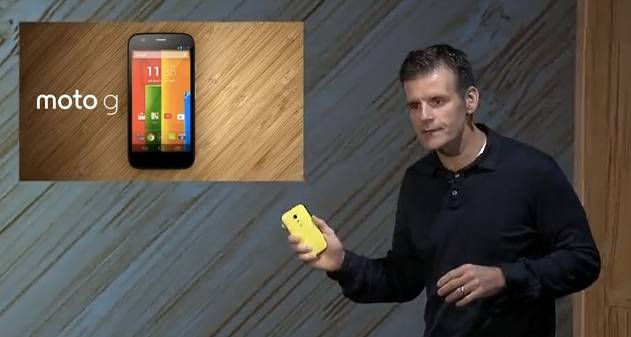 Motorola has wrapped the Moto G event and the handset is now official. This is another instance where the details were pretty much known given all the leaks and rumors, however the official confirmation is more than welcomed. To begin with, Motorola is touting the Moto G as being an "exceptional phone" with an "exceptional price." To that point, the handset will be priced from $179.
The event had Motorola talking quite a bit at the value consumers get based on what they are willing and/or able to pay for a smartphone. We aren't sure the Moto G is going to be the smartphone of your dreams given the specs, but it should be a decent value given the price. That $179 price point will offer 8GB of internal storage and doubling up to 16GB will be just a few dollars more — $199. And keep in mind, these are unsubsidized and contract-free prices.
Aside from the storage, the Moto G will be launching with a 4.5-inch display at 1280 x 720 and with a ppi of 329. Motorola touts this as being "the sharpest in its class." The handset will then be powered by a quad-core 1.2GHz Snapdragon 400 processor which is paired with 1GB of RAM. Motorola is also using some of the same design principles we saw with the Moto X.
In this case that means an edge-to-edge display, curved back, Corning Gorilla Glass and a waterproof nanocoating on both the interior and exterior of the handset. Another aspect pushed here is the battery life. Motorola has this as being "all day" and that will come courtesy of a 2070 mAh battery.
The handset will launch with Android 4.3 and have 4.4 Kit Kat by January 2014. Similar to what we saw with the Moto X, the overall experience will be clean and almost stock. Motorola choose to optimize and build-up Google services as opposed to cluttering up the handset with additional and competing apps and user interfaces. The Moto G will also have Motorola Assist, Motorola Migrate, an FM Radio and 50GB of free Google Drive storage.
Motorola will have the handset selling along with some accessories. These includes headphones and earbuds as well as external battery packs, a bumper, flip cover and as we were expecting — colored backs that are able to be swapped. Motorola referred to the colored back covers as "Motorola Shells."
That all having been said, Motorola will have the Moto G available beginning today. The initial availability will be in Brazil and parts of Europe. The handset will later come to a total of 30 countries around the world. And for those wondering, the Moto G will be available in the US beginning in January.
https://www.youtube.com/watch?v=VunSqD1MOjE