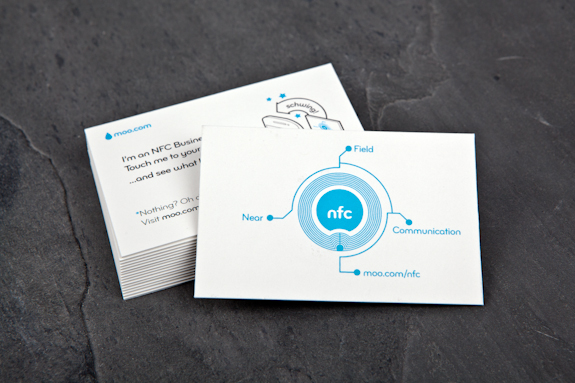 Business cards in general might be thought of as a thing of the past now, but printing company MOO doesn't think so just yet. They have announced a new line of business cards that come with NFC capabilities, meaning that you can transfer information that's on a business card to an NFC-enabled smartphone like the Galaxy S III.
The company is giving anyone who purchases a pack of regular business cards from MOO a free NFC business card. It comprises of a normal business card, but with a tiny microchip and antenna embedded inside. When you tap it against a phone with NFC, it quickly transmits the information to the phone.
However, in order to get your own NFC business card for free, you'll have to order from MOO fairly soon. The company is only making 150,000 NFC-enabled business cards at this time, which sounds like a lot, but they may end up going fast. Packs of regular MOO business cards start at $19.99 for a pack of 50. That might sound expensive, but if you've ever held a MOO business card before, you'll know that the company makes some high-quality products.
MOO says they're still experimenting with the new technology and they hope that you'll be able to do even more with their NFC business cards in the future. They even said that they plan on releasing an Android app that will allow you change the information on the NFC chip, which would be perfect for those that need to change phone numbers or email addresses.
[via MOO Blog]