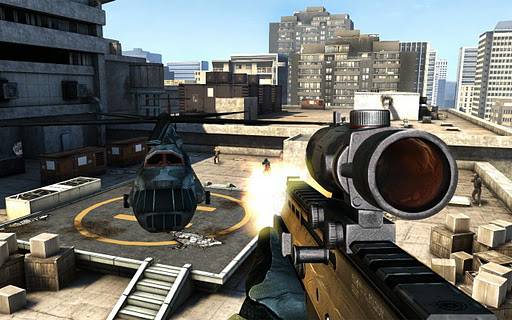 Gameloft has just released the extremely impressive looking Modern Combat 3 for Android. We were teased with a few sample videos showing off this quality game back in August and sadly we've had to wait almost a half year to get this game on our Android phones and tablets. Gameloft officially released this first person shooter over the weekend and I'm excited to give it a try.
This might not be Call of Duty type gaming but the graphics and gameplay are extremely impressive for a mobile device. A large part of that is thanks to the huge 1.3 GB of internal storage needed for the game. So if you've been running low on space with that aging smartphone this might not be the game for you. Either way it's extremely impressive and continues to build on the great series they've already released.
With 13 different missions across the globe from LA to Pakistan this offers one of the most immersive and realistic war games available on a mobile device. It has multiplayer support with up to 12 players across 6 different levels and 7 game modes. With plenty of gameplay scenarios from escort missions, search and destroy, Helicopter crashes, 4×4 racing and more you'll be on the edge of your seat (or screen) the entire game.
This all sounds awesome but there are a few negatives. One being that huge 1.3GB storage requirement to download and play the game. Maybe they should let users download in 2 parts for those lacking internal storage. Another major issue is the game will run you $6.99 from the Android Market yet they still want to charge you extra money with in-app purchases for weapon upgrades and what not. If neither of those are a concern or you just love all first person shooter games then head to the market link below and give it a try. Graphics are excellent and so is the gameplay. Let us know what you think in the comments or drop us a comment in the Android Community forums.