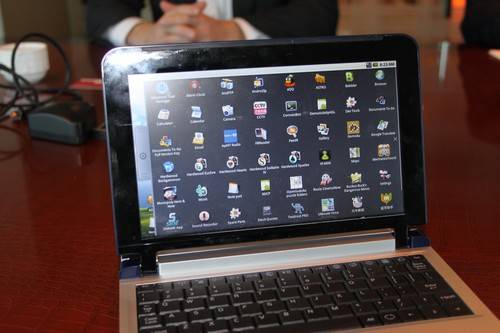 The Mobinova Beam is an 8.9 inch smartbook that uses NVIDIA's Tegra platform to deliver HD graphics while using little power to do so. It's rumored to have the ability to play over 16 hours of video. Windows CE was the featured OS choice in the past but Mobinova chose to go with Android instead because of it's large selection of apps.
Speaking of apps, out the box it doesn't include the Android Market. The good news is they are working on their own app store. Mobinova plans to combat the absence of the Market by pre-loading multiple high end games that showcase the power of the Nvidia Tegra CPU. There's an HDMI for 1080p output and the keyboard has been modified to include playback keys. To take advantage of its HD capabilities, CinemaNow will be on board for downloading premium videos. Pricing and availability has not been set but this is expected to land on AT&T in the near future.
There's a video of this running Android at blog.laptopmag.