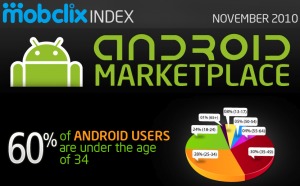 Mobclix sent out a survey last month to its thousands of users, which revealed some pretty interesting info about Android users. One of the most interesting results was that Android users prefer a physical QWERTY keyboard. This is good news for the recently released Droid Pro, which features a full QWERTY keyboard. Check out the rest of the results after the break.
The full list of results are as follows:
60% are under 34, another 30% are 34-49 (seniors don't appear to be big Android users)
8% of the users surveyed switched from an iPhone, 45% switched from a feature phone.
Email is still the biggest activity with 37%, Games are 21% while Maps are 8% (browsing?)
Only 46% of Android users prefer a touch screen over a keyboard.  That means physical keyboard users are still a significant market for Android phones.
Android users spend 1/7th of what iPhone owners spend on in-app purchases. iPhone owners have an average of 28 installed apps vs. Android users who have 17 installed.
Android owners are twice as likely to make payments on their devices as other smartphone owners
The top 3 games are Angry Birds, Solitaire and Jewels
Pretty interesting stuff, and congrats to Angry Birds for being the most played game. It looks like the app store for iOS is still more profitable than the Android Marketplace.  Check out the full image below.