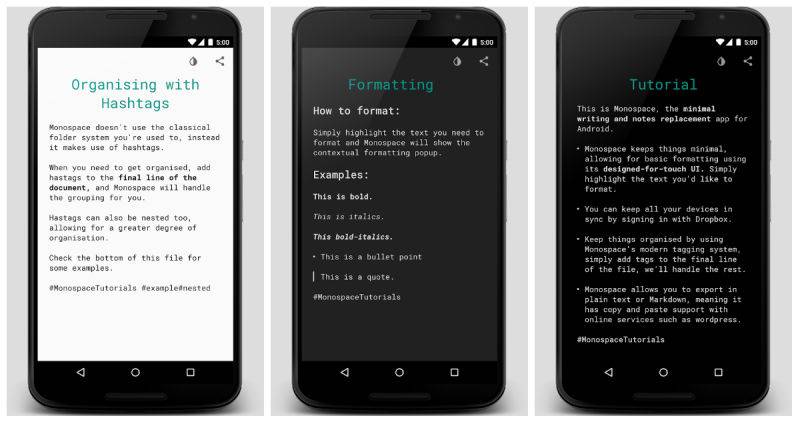 If you're writing a crucial paper for school, a big proposal for work, or an important post for your blog, and you're doing it on your mobile device (well, at least the initial draft), chances are you would need a no-frills, minimalist app that will keep you focused on just writing. And since you're working on a smartphone or tablet, you also need something that is designed for touch. Monospace is one of those apps that you can use, and now, it is out of beta and available for everyone that has an Android device.
As a treat for both beta testers and new users, it has been redesigned for the official launch, and of course there are a lot of new features to make writing on the app even easier. First of all, in terms of organization, the hash tagging feature has been improved. You just need to add a hashtag at the end of the note to help organize your notes instead of putting them into folders. And if you add the tag #encrypted, it will lock your note and you can unlock it through a password or through fingerprint if your device supports that.
There are also new formatting options like strikethrough, bullet, quote, and size-related options as well. But in keeping with its minimalist format, there aren't that many options, just the important ones. In case you need to work on an external keyboard, it now has support for it as well. The developer also says that the performance has become 8x faster and that it is 99.8% crash-free.
You can download Monospace Writer from the Google Play Store for free. You can upgrade to the Pro version through an in-app purchase, and it will give you Drive Sync, Customizable Typefaces, and a customizable Formatting Bar.
SOURCE: +Jack Underwood