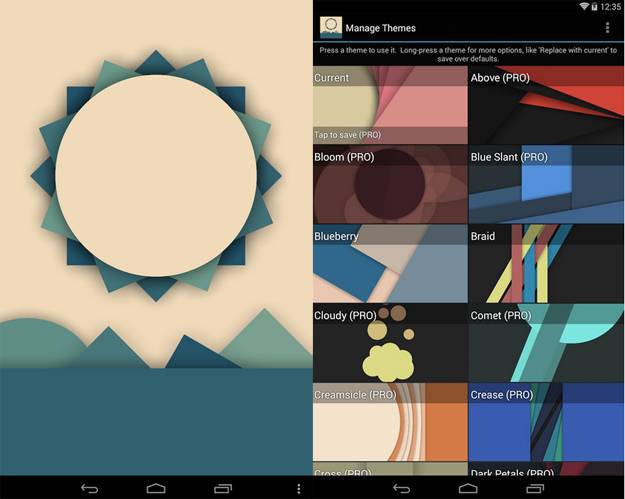 As Android 5.0 Lollipop continues to roll out to various devices, our smartphones and tablets have been "transformed" to the Material Design visual guidelines that Google has strongly suggested to OEMs and app developers. Even your devices apps have to keep up with this style guide in order to fit in with the new UI and look once you've been upgraded and there are several apps out there to give your gadget a fresh new and live look.
One of those apps is Minima Live Wallpaper and it brings you the colors, shapes and layers that will fit right in with Google's Material Design. And not only will look pretty, but it will look alive. As you move and scroll through your device, the shapes and forms swirl and tilt and shift in 3D parallax motion. You get to change your device's wallpaper depending on your mood, and you get to choose from around 14 hand-crafted themes, and if you get the Pro edition, that number goes up to 70. If you want to be "surprised" with what you'll see on your screen, you can choose the Randomizer, which will change your wallpaper once a day.
However, that feature is only available in the Pro edition. If you're also willing to pay for the app, you'll also get the chance to edit the built-in themes available. What's cooler is that you get to design your own live wallpapers and you can share these creations with other users online.
You can get the Minima Live Wallpaper app for free from the Google Play Store. But if you want the Pro version, you need to pay $1.99 for the other features we mentioned above.