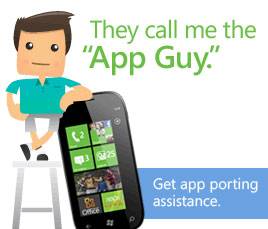 Today the bulk of the developers out there tend to focus on the major platforms like Android and iOS. There are other smartphone platforms that devs work on and Microsoft wants to woo Android developers to develop their apps for Windows Phone 7 as well. To make the development process for Android to WinPo 7 easier and smoother for devs Microsoft has announced a new software kit for Android devs.
The kit has two parts to it, the Android to Windows Phone API mapping tool and the Windows Phone 7 guide for Android Application Developers. The latter part of the kit is a whitepaper with over 90 pages and seven chapters. The API mapping too is described as a sort of translation dictionary that will help the Android dev to figure out what WinPo 7 equivalents for Android code is. Microsoft says, "Think of the API mapping tool as being like a translation dictionary."
Microsoft says that it has also opened the API mapping tool up for feedback from devs. The tool allows the developers to add comments directly to the existing mapping systems if something is inaccurate the devs can let Microsoft know. Microsoft also notes that mapping is tedious work and is ongoing so devs shouldn't expect mapping for all of the APIs. Microsoft has also hired an "App Guy" that crawls over forums to answer questions about porting Android apps to WinPo 7.
[via Windowsteamblog.com]