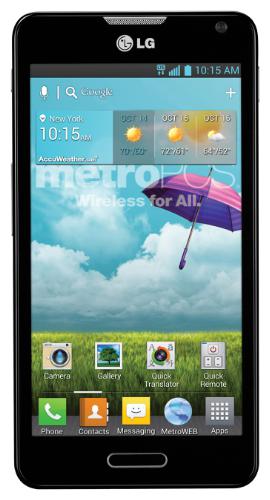 MetroPCS has announced the availability of another smartphone. This latest is the LG Optimus F6 and it will be available with the carrier beginning today. The Optimus F6 sports a 4.5-inch (960 x 540) display, brings support for LTE and HSPA+ connectivity and will be available with a contract-free price of $199.99.
Other specs for the Optimus F6 include Android 4.1 Jelly Bean along with a dual-core 1.2GHz processor, 1.2GB of internal storage, a microSD card slot with support for cards up to 32GB in size and a 2460 mAh battery. As for the camera situation, the handset has a 1.3 megapixel camera on the front and 5 megapixel camera on the back. The rear-facing camera has auto-focus with an LED flash and is able to capture video at 1080p.
Aside from the hardware and Jelly Bean, those looking towards the Optimus F6 will also see some LG specific goodies. These include QuickMemo and QSlide Function. The former is just as the name would imply and will allow you to quickly and easily capture notes. The latter is a multitasking feature and means the user will be able to view multiple screens at the same time by adjusting the size and transparency.
Touching back on the camera, LG has the Optimus F6 equipped with features to include Time Catch Shot which means you will be able to select what you find to be the best shot (out of five available images), the ability to Pause and Resume within a single video and Voice Shutter which lets the user take a photo with a voice command.
As for the plans, MetroPCS pricing begins at $40 per month and climbs to $50 and $60. All three price levels include unlimited talk, text and data, however they each have varying amounts of high-speed data. The $40 option includes 500MB at high-speed, the $50 includes 2.5GB at high-speed and the $60 plan includes unlimited high-speed data. With that, those looking for the LG Optimus F6 will be able to find it online and in MetroPCS retail stores.
VIA: PR Newswire