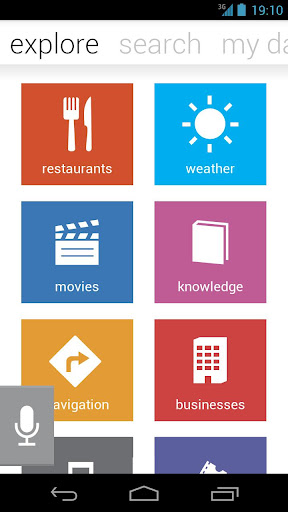 Samsung-backed Maluuba recently launched on the Google Play Store in U.S. and Canada and now it is making its way to Australia, the U.K., and Ireland. Maluuba is best described as Siri for Android. It features natural voice recognition and many other features that put it right on par with Apple's offering.
Maluuba accepts voice input from users and is able to initiate and search many third-party services such as Wolfram Alpha, Yelp, Eventful, West World Media, Rotten Tomatoes, Facebook, Twitter, Foursquare, Weather Underground and Wikipedia. It also performs several key system-level functions such as appointments, alarms, and location-based reminders. For Google Calendar users, this app should fit right in, as it integrates heavily with it.
The most notable difference between Maluuba and Siri is that Maluuba does not talk back to users when they input something. All results and requests for the user to follow-up are done through the apps user interface. Some users may prefer this, some may prefer more audio feedback; it's simply a matter of preference.
Users in the U.S., Canada, Ireland, U.K., and Australia can grab the free application from the Google Play Store. Maluuba has already expanded its data set with data needed to function properly in the new locations, so it should be ready to go for users in all five areas.
[Via TechCrunch]