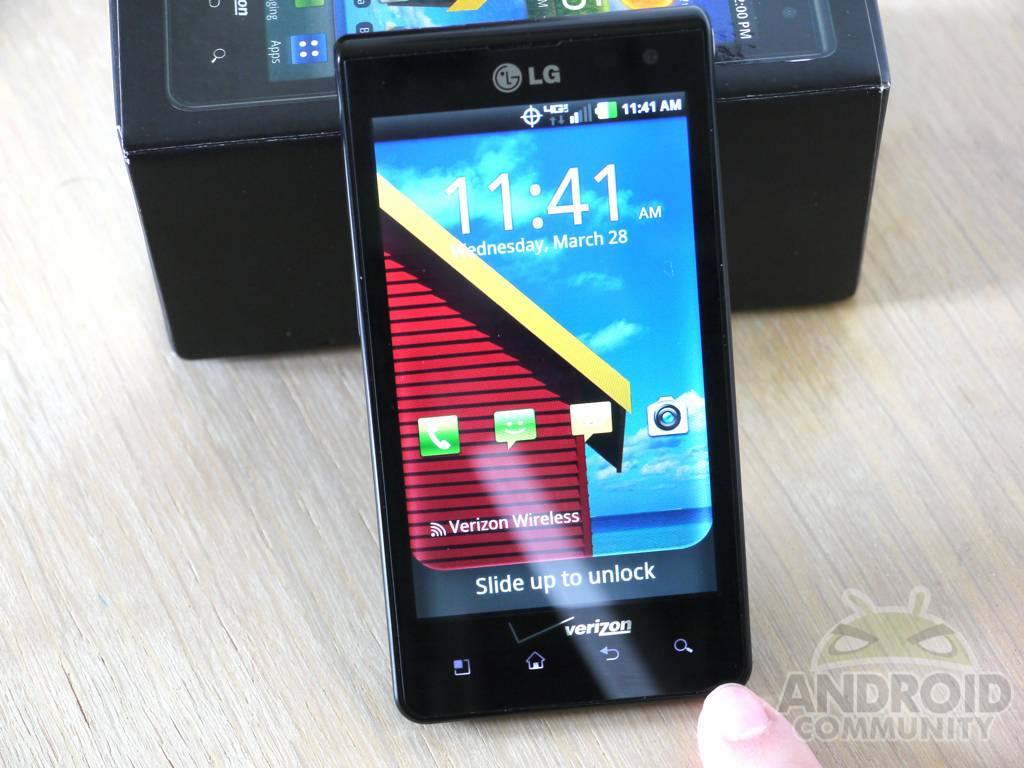 The latest phone to grace Verizon Wireless is finally here. This is the Lucid by LG with 4G LTE and a dual-core processor all for one low price. This phone comes in a neat little package and will be available starting tomorrow. Lucky for you we have it on the test bench and did a quick hands-on and unboxing to start things off, and will be taking it through the trenches over the next few days.
The Lucid by LG is the latest phone to be powered by Verizon 4G LTE, but as they said a few weeks ago, all smartphones in 2012 will be LTE capable. The Lucid is poised to compete in the mid-range market based on its price but the specs are near the top of the pack. It comes with a cute little design and a powerful dual-core processor. The specs include a 4-inch IPS display complete with a 480 x 800 resolution, Android 2.3 Gingerbread, 1.2 GHz dual-core Qualcomm processor, 1GB of RAM, 8GB of storage and a micro-sd slot to expand storage should you choose.
With a plastic design and rounded edges all around it feels comfortable in the hand and has no square corners to cause discomfort. On the rear LG has added a 5 megapixel camera with LED flash that is capable of 1080p video capture. We get a VGA front camera for video chat and a 1,700 mAh battery that should get you through a days use. Once we give the Lucid by LG a full rundown and review this week we'll be sure and test battery life, performance, and those LTE speeds.
LG has pre-installed an app called Video Producer, which is their own in-house video editing software so we'll be sure and give that a quick test too. The Lucid by LG (why can't we just call it the LG Lucid) will be available starting tomorrow March 29th on Verizon Wireless for only $79.99 with a new 2-year contract. That is an excellent price considering the specs of this phone, although you'll have to send off a mail in rebate. LG has stated it WILL be updated to Android 4.0 Ice Cream Sandwich but there's no telling when that will be.
Stay tuned for our full review on this impressively priced and spec'd smartphone and sound off in the comments if you have any specific questions. We'll let you know if this is a lucid dream or not soon.
[device id=2375]