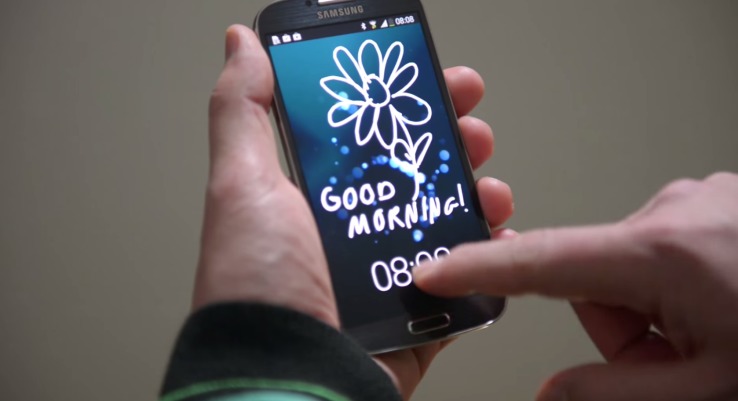 Did you ever wish that you could turn your mobile phone into an Etch-A-Sketch and then be able to send your scribbles to your friends? While there are a lot of sketch-type apps there, Loklok's messaging app is probably the only one that lets you virtually write on your friends' lock screen in real time, that is if you both have an Android phone.
This new innovative app will turn your lock screen into a virtual whiteboard for you and your friends to have fun with, or even to seriously communicate with, if that's your thing. Without opening an app or even unlocking your phone, you can send handwritten notes, pictures which you can draw or write over, both ugly and beautiful sketches, whatever floats your boat and can fit on the screens of your phones. There are also brushes and coloured paints to choose from, if you get bored with the default white ink. If you've drawn something that resembles a masterpiece, you can even share it on social networks as well. But just like a lot of messaging services now, only the latest one will remain on the server while the rest of them will get lost in the virtual ether.
The set-up process is a little complicated but once you've got things up and running, virtually scratching on your friends' phones will be a breeze. After downloading the app from the Google Play Store, you need to tell your friends who have Android devices too to download it as well before you can add them. You'll send them an email through the app, inviting them to join your virtual whiteboard room. And once they're there, the drawing and sketching can commence. The only drawback is that there is no notification as of yet, so you'd have to always check your screen if any of your friends have updated your board.
The pre-launch and beta testing of the app received a lot of positive reviews, as per Loklok CEO Guillermo Landin. And unlike most apps that just launch first in one platform and then move on to others, this one is only possible for Android devices, well, as of now. He said that there may be plans to branch out to iOS in the future, but for now, it will remain an exclusive Android special toy.
VIA: Tech Crunch