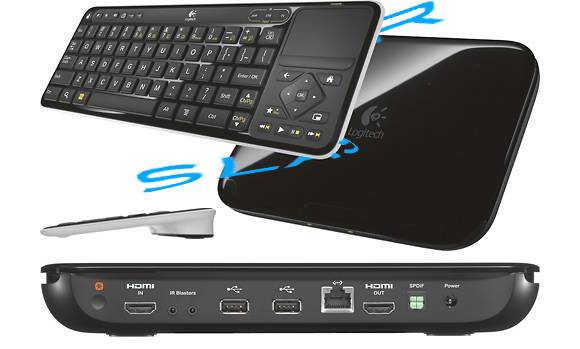 Today, right now, if you walk into select Best Buy stores or click on over to Best Buy's online store, you can pick yourself up the Logitech Revue with Google TV. That's right! Now you can do all sorts of stuff on your TV, stuff you'd only ever otherwise done on your desktop or notebook or smartphone. Access Facebook, your Android apps, weirdo websites, and more, with this lovely device that includes an integrated keyboard, remote, and touchpad.
This lovely beast will run you $299.99USD and when we're looking at it now, it's backordered to the point where it could take up to 2 weeks to leave the warehouse. Your best bet to get one of these quick is to call your local stores and see if they've got one in stock, then RUN OVER THERE AND GET IT! Information provided by Best Buy on the Revue below.
What's Included
* Logitech Revue with Google TV
* Keyboard controller with integrated keyboard, remote control and touchpad
* 2 AA batteries
* Power supply, HDMI cable, IR mini blaster
* Owner's manual

Product Features
– Google TV
– Turns your HDTV into a smart TV and makes it easy to search the Web, TV programming, compatible DVRs and more.
– Compatible with most HDTVs with HDMI ports
– Also compatible with cable, satellite or telco boxes with HDMI ports.
– Wi-Fi- and Ethernet-ready
– Connect to the Internet wirelessly or with a cable. Enjoy high-quality audio and video, Web sites including YouTube, Facebook and Twitter or Android, Netflix and Logitech Vid applications.
– Embedded Logitech Harmony link
– Control your entertainment devices without using a separate remote. The integrated keyboard controller, remote and touchpad allow for easy navigation.
[Via Best Buy]