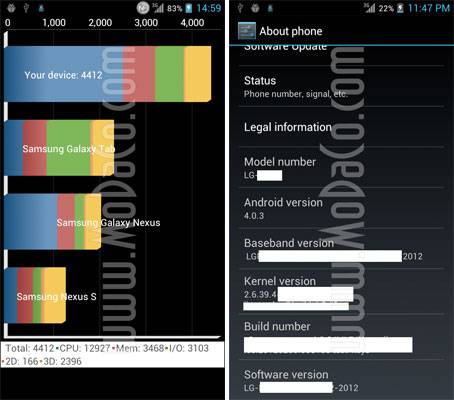 LG's next high-end smartphone has been leaked and name dropped a few times but today we have received a full slew of specs, and screenshots that basically confirms all previous reports and rumors. Following its older sibling the LG G2x and the Optimus 2x we are now hearing they'll be releasing the LG X3 quad-core Tegra 3 smartphone soon. While that isn't new, the full specs and screenshots below are brand new.
Thanks to popular developer Paul at ModaCo we now have almost the full spec sheet for this upcoming superphone from LG and NVIDIA. The leak confirms the huge 4.7″ 1280 x 720p HD display, NVIDIA Tegra 3 quad-core processor, 1GB of RAM, and a large 2,000 mAh battery. Add in 16GB of internal storage, micro-SD support and an 8 megapixel camera the LG X3 will be a top-tier device surely to please.
Just like the LG G2x it appears to be mostly stock Android but does have some tweaks by LG, which worries me given the T-Mobile G2x disaster. The new LG X3 will land with Android 4.0 Ice Cream Sandwich and the shots above are showing the latest, 4.0.3 on board. You can see from the other screenshots from ModaCo the settings page has a few LG tweaks to lock screen, gestures, and power saver. The last one most likely power saving measures for the quad-core processor under the hood.
Looking at the Quadrant results we see some highly impressive benchmark scores. The X3 scores well over 4,400 completely stock thanks to that Tegra 3 processor and stock Ice Cream. The latest Quadrant Benchmark suite now is as accurate as ever with multi-core and ICS support, and we can clearly see that from the X3 benchmark results.
Hopefully LG will be announcing and showing off this new smartphone at Mobile World Congress. They've teased us that they'll have a "revolutionary smartphone" on display and we can't wait to see more in a few weeks.
[via ModaCo]