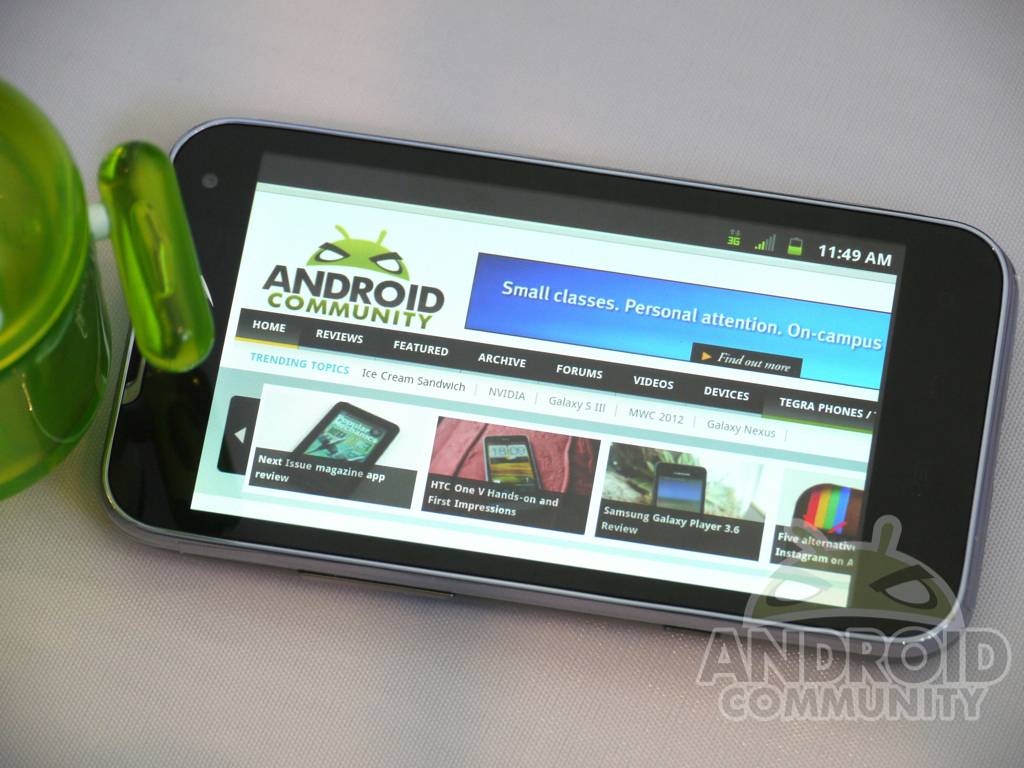 Today we got the privilege to check out the brand new LG Viper 4G LTE, available starting April 22nd for the Now Network. This is the first 4G LTE capable device in the USA that is not operating on Verizon or AT&T's LTE networks. Instead it's replacing WiMAX for the Now Network although their nationwide LTE hasn't rolled out yet. Check out our hands-on, impressions, and pictures after the break.
While you'll still be waiting for 4G LTE speeds for a little while the phone does come in a great little package, and will get the usual 3G connectivity until LTE hits your city. The Viper isn't a powerhouse by any means but is definitely a nice mid-range phone coming with good specs, and an even better price tag. The Viper will be available April 22nd for only $99 with a 2-year contract and a $50 mail in rebate.
Build quality is decent. The overall design has an aluminum bezel with a brushed aluminum design on the rear battery cover — although it's plastic. It gives the phone a quality and top-notch look while remaining lightweight and sturdy. LG's outfitted the Viper with a 1.2 GHz Qualcomm S3 processor, 1GB of RAM and a 4GB micro-SD card for storage. The rear comes with a 5 megapixel camera with LED flash and 720p video recording, and you'll also get a VGA camera around front for video chat. Running on Android 2.3.7 Gingerbread we have a basically stock version of Android, with a few small changes from LG or the carrier.
As you can see from the video above, overall performance was as to be expected with a 4.0″ display and a dual-core processor. The user interface was smooth and stable although it wasn't completely stock Android. LG has promised Android 4.0 Ice Cream Sandwich in an update shortly, but no details on that are available at this time. The phone operates and feels quite nice for my first impressions but an HD screen would have been nice instead of the standard 480 x 800 resolution.
Without WiMAX or LTE the 3G speeds were slower than the competition, barely getting over 1 MB/s downloads here in Las Vegas. 4G LTE can't come soon enough for this device and the Now Network and hopefully they get the ball rolling soon. Stay tuned for a full review and leave any questions you may have in the comment section below.
[device id=2410]