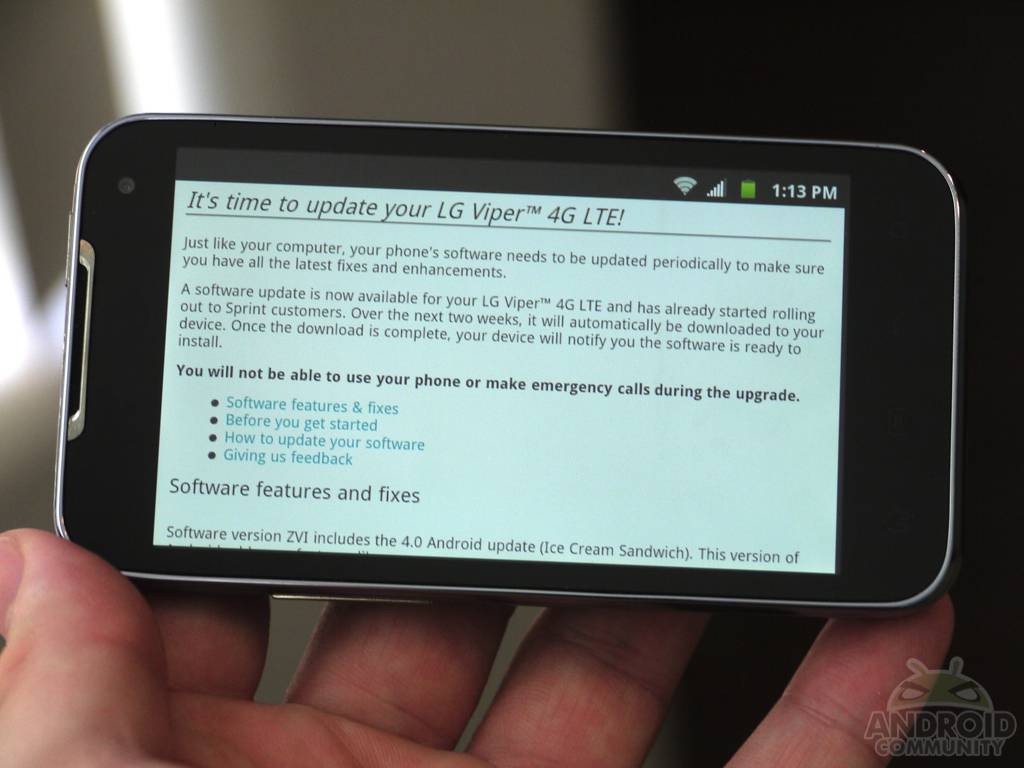 For the few of you rocking LG's mid-range Viper 4G LTE we have some good news this afternoon. The LG Viper 4G LTE is set to finally get Android 4.0 Ice Cream Sandwich starting today, and it will be arriving for all users over the next few weeks. The Now Network has just green lit the update and it's rolling out as we speak. More details below.
LG's Viper 4G LTE still isn't quite enjoying 4G LTE speeds in most of the country thanks to the carrier, however LG's making the experience even better by updating to their new and improved version of Ice Cream Sandwich. With it comes all the UI enhancements, new features, Face Unlock, and multiple other improvements to the handset. Here's just a few according to the update page itself:
Just as we've already seen from Android 4.0 ICS you'll be enjoying a brand new user interface that is lovely, improved unlock screen, homescreen folders and such, as well as re-sizable widgets and Face unlock as mentioned above. The LG Viper 4G LTE runs a nearly stock version of Android 2.3 Gingerbread, so this should be a massively awesome update for all those Viper owners. No LG skin or tweaks to the UI, a nearly vanilla version of Ice Cream Sandwich just as we like it. The device might not be too powerful, but it's a great budget-friendly device that just got a whole lot better with this update.
The update is currently rolling out as we speak to all Viper LTE owners, and the carrier states all users should receive the update over the course of the next few weeks. I've just launched the ID app and quickly was prompted to update to the latest and greatest — so users shouldn't have too many problems. Get the new ICS for your Viper, then hopefully 4G LTE arrives this year too. Let us know if the update causes any issues.
[device id=2410]
— Thanks Tim and Nikks