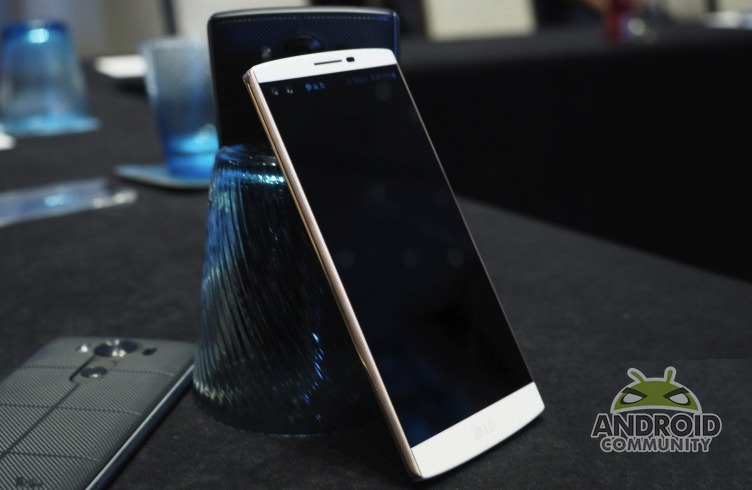 Clear of its intention to attract more customers by offering an extra battery and free 200GB microSD card when you purchase an LG V10, LG is happy to announce that the new smartphone will be available soon in Hong Kong, China, and the US. Other markets in different regions will also follow– Asia, Europe, Latin America, Middle East, the Commonwealth of Independent States, and North America.
The LG V10 is said to be an ultra smartphone ideal for the busy travelers. It shares some of the specs of the LG G4 like the 2560 x 1440 QHD resolution, 3,000 mAh Quick Charge battery (removable), and the hexa-core Qualcomm Snapdragon 808 chipset. This one though comes with a 5.7-inch screen, 4GB, 64GB built-in storage, and an "always-on" secondary screen that can be used to display notifications and other important reminders. There's also a microSD card slot for memory expansion.
Almost everything seems to be improved in the V10. You can expect hi-def music, thanks to ESS Technology's 32 bit Hi-Fi DAC. Phone comes with a pair of Quad Beat 3 earphones–a product of LG and AKG Acoustics' partnership to provide high quality audio. This phone also meets the Extreme Photo-Imaging Capabilities (EPIC) of SanDisk, making the V10 the first mobile device to meet the strict guidelines. LG V10 also boasts of Dual Front Cameras that feature a pair of separate lenses that are capable of capturing 120-degree wide angle shots or 80-degree selfies.
This LG V10 is definitely a multimedia smartphone. LG says phone will start shipping soon.  Just wait for local announcements in your country. Meanwhile, you can check out this promo page to BUY or REDEEM the freebies from your choice of mobile carrier in the United States: Verizon Wireless, T-Mobile, or AT&T.
Here's what we know so far:
AT&T | BUY NOW
• Full retail price of $699.99
• Starting at $23.34 per month
• $249 with a 2-year contract
T-Mobile | BUY NOW
• Full retail price of $599.99
• $0 downpayment, $25/month for two-years
Verizon Wireless | BUY NOW
• Full retail price of $672
• $0 downpayment, $28/month for two-years
SOURCE: LG