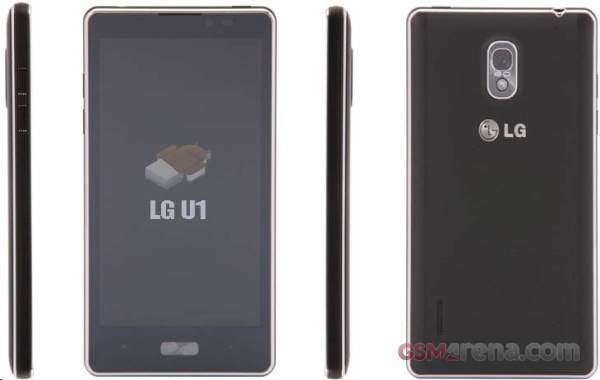 This sure looks interesting. What appears to be either an excellent render or some actual images of the new LG Optimus U1 have appeared. The device sure looks thin and apparently may end up being the very first LG phone to run off the new Android 4.0 Ice Cream Sandwich. While the name U1 is most likely just a code name, we don't have much else to go on so that is what we're calling this sleek and thin device.
I don't know about you guys but it looks quite similar to the Galaxy S II with a hint of LG around the edges. According to sources this will be the first device by LG offered with Ice Cream Sandwich, but then seeing that dedicated home button smack dab in the middle has me seriously doubting this already. Why put the big chrome button in the middle then launch with ICS, unless this is a phone coming soon that will get updated to ICS, then it would make more sense.
We don't have any hardware specs to go off of, but looking at the leaked image I'd say we have a 4.3″ device here. We can clearly see the 8MP camera around back and the extremely thin and sleek design, but then I also see a few dots near that home button so it could be Android, but could also run Windows Phone 7 — just saying. One thing worth mentioning is that just because ICS has built in navigation and home buttons doesn't mean manufacturers will move to no dedicated home buttons on all devices. So that doesn't necessarily rule this out for ICS, but I do have my doubts.
What does everyone think? Will we start seeing all devices that ship with Android 4.0 Ice Cream Sandwich have no dedicated buttons, or will OEM's still try to be different from the pack and include a few? We'd love to hear your thoughts or preferences.
[via GSMArena]