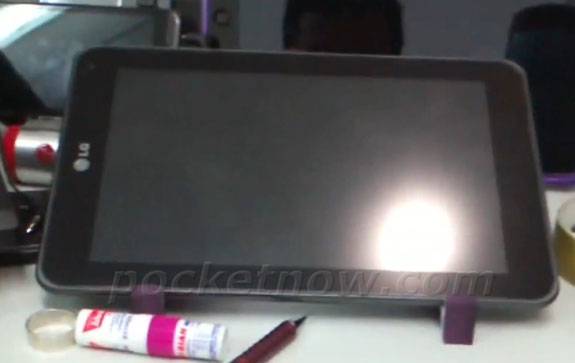 Last year LG launched the Optimus Pad better known as the T-Mobile LG G-Slate in a neat 8.9″ form factor and some 3D effects. While the tablet didn't sell extremely well it was their first venture into the tablet game. Today we are seeing what is believed to be the successor to the Optimus Pad — possible the Optimus Pad 2.
Looking at the picture we don't have a lot to go on. Sources are debating the legitimacy of the picture but the original Optimus Pad had the LG branding nicely on the back, not on the front. It appears to either be the same 8.9″ form factor or possibly a smaller sibling. I can't imagine them putting the LG branding in that location for a larger 10″ slate that would almost always be held and used in landscape mode.
Apparently all we have to go on is the image above, so it doesn't reveal much and any sort of discussion about specs would be purely speculative. Although most likely this will be an Android 3.2 Honeycomb or 4.0 ICS tab. The way things are going I'd expect the NVIDIA Tegra 3 quad-core processor inside but we could very well see some sort of dual-core chip at the same time while a larger LG tablet gets the quad-core. Either way we'll just have to sit and wait for a few more details or pictures to leak so we have a clearer picture of what to expect. Hopefully this go around LG doesn't make us wear cheap paper sunglasses to view the 3D experience — or just leave that out all together, that is ok too.
LG was one of the first in line with the Tegra 2, chances are we are looking at a similar situation for the Tegra 3.
[via PocketNow]