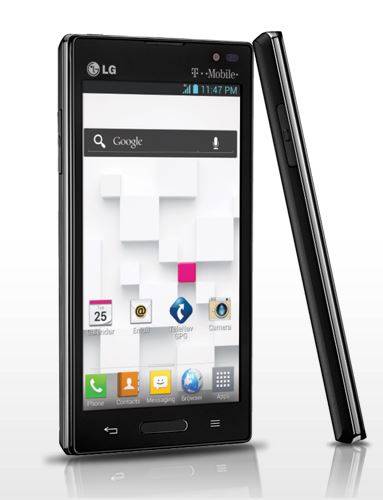 Just a heads up if you've been waiting to get your hands on the LG Optimus L9 – the new handset has officially launched at T-Mobile. The L9 doesn't fetch too steep a price, which makes it a good choice for those who need a decent handset on the cheap. Make no mistake, the L9 isn't going to be burning up the benchmarks, but it should be a suitable device for those who don't need to have the latest and greatest.
Under the hood, you'll find a Qualcomm MSM8225 dual-core processor clocked at 1GHz, which certainly isn't the fastest but should be at least relatively quick. You've also got 1GB of RAM and 4GB of internal storage to take advantage of, and all of this hardware is powered by a 2,150mAh battery. On the backside, we have a decent five-megapixel camera, with the L9 running Android 4.0 Ice Cream Sandwich.
Next we come to the L9's screen. With the Optimus L9, we've got a 4.5-inch display, which is getting up there as far as size goes. That screen is running at 960×540 resolution, so while you may not be getting HD with this device, visuals should still be pretty sharp. The phone is also pretty slim coming in at just 0.36-inches thick, and it's lightweight to boot.
The LG Optimus L9 is available now from T-Mobile for $80, which isn't too shabby. Keep in mind that you'll need to sign a two-year contract and redeem a $50 mail-in rebate to get the phone down to that price, but even without the $50 rebate, $130 still isn't too bad. Is the LG Optimus L9 for you, or are you planning to pick up a different handset?
[device id=3350]