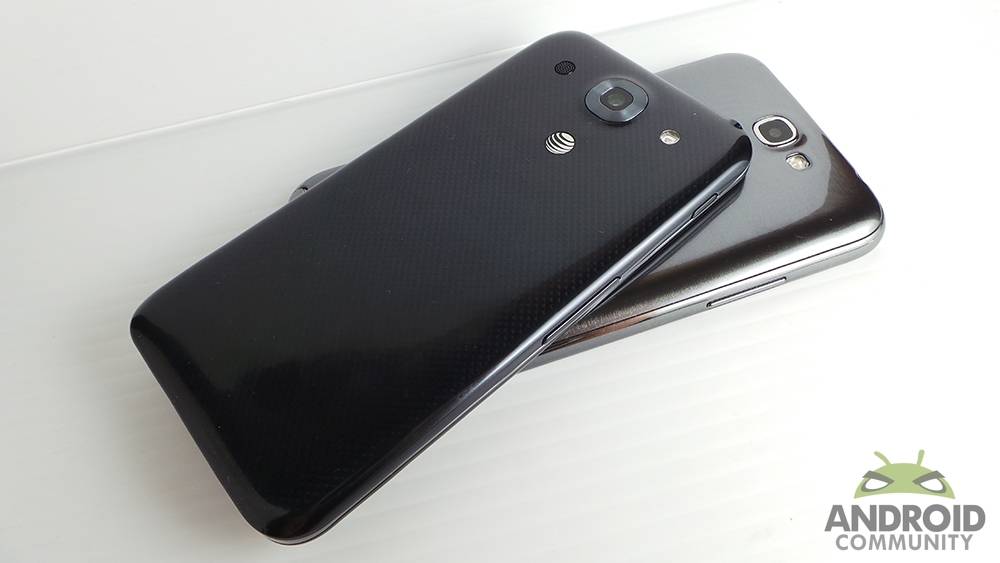 Now that the LG Optimus G Pro is readily available in the US from AT&T, we decided to pair it up against the competition. With the Galaxy Note II already being available for some time, can the late-to-the-game Optimus G Pro compete? Both feature stunning 5.5-inch displays and more so lets take a quick look below and let you decide.
On paper both devices might seem nearly the same, but it's the small details that really set them apart. Both have quad-core processors and 2GB of RAM, both offer a 5.5-inch HD display, both are running Android 4.1 Jelly Bean, and the list goes on. However, deep down they are quite different, and the LG Optimus G Pro actually sits well above the Note II.
Both of these are massive smartphones, there's no doubt. If you have the hands and pockets to fit this big of a device, both are a great buy. Samsung is famous for their cheap plastic materials, and LG followed right in their footsteps. Dedicated home button and all. Even their pulldown menu appears to slightly copy Samsung. However, LG's plastic doesn't feel quite as cheap, and also isn't as slippery and hard to hold. Overall though the Galaxy Note II just looks a little better, and has some better design curves.
In the hand the LG Optimus G Pro is actually easier to hold, not as slippery, and doesn't feel as massive. It's also quite a bit lighter. As you can see above the colors are possibly a little better, but more on the display below. LG has sleeker bezels and rounded edges, and this makes the device look and feel smaller and makes it much easier to grip. Something that is important at this size.
LG also has a leg up regarding hardware under the hood too. Above we mentioned they sound the same on paper, but they are very different machines. The LG has a 5.5-inch full HD 1080p display, vs just 720p on the Note II. Then that quad-core processor is quite a bit different too. Samsung has a 1.6 GHz Exynos quad-core, while the LG rocks Qualcomm's latest generation 1.7 GHz quad-core Snapdragon 600 series. Something much faster, stronger, and more efficient.
Then LG also gives you double the storage offering 32GB, vs just 16GB on the Note II. They both have a micro-SD slot for expanding storage up to 64GB, and both have massive removable 3,100 mAh battery options. Sadly the Optimus G Pro in Korea has a spare battery in the box, but AT&T decided to leave that out here in the US. They also don't have a stylus, which is fine, but one in the box to help compete with Samsung wouldn't be a half bad idea.
Below is a full detailed list from our device database giving you the breakdown of all the hardware and software specs, so we'll let you peek at that for the final details. Now that we've reviewed both devices, this is a toss up. The LG Optimus G Pro is a better device in all aspects, however, the software on Samsung is just that much more polished. The second major issue was battery life. Having a more efficient processor with the LG we expected great battery life, but the aging Note II seriously outperforms LG here. There's something going on with LG's battery life situation, and it needs fixing.
The 32GB LG Optimus G Pro from AT&T is just $199. The older, not full HD, only 16GB Galaxy Note II will run you $299. So obviously the LG might be a better choice for many. If this would have arrived near the same time as the Note II, it would win outright. Sadly with the Note III on the horizon and expected to be announced in late August, we have a feeling many will wait to see what Samsung delivers.
You can't go wrong with either device, but here are the facts. Samsung will probably update to the latest version of Android faster, their software is more polished, and it still gets better battery life. Oh and you can't forget that S-Pen stylus for content creation with the Sammy. You'll enjoy either of these massive smartphones, so the choice is yours.
[device id=7396]
[device id=3362]