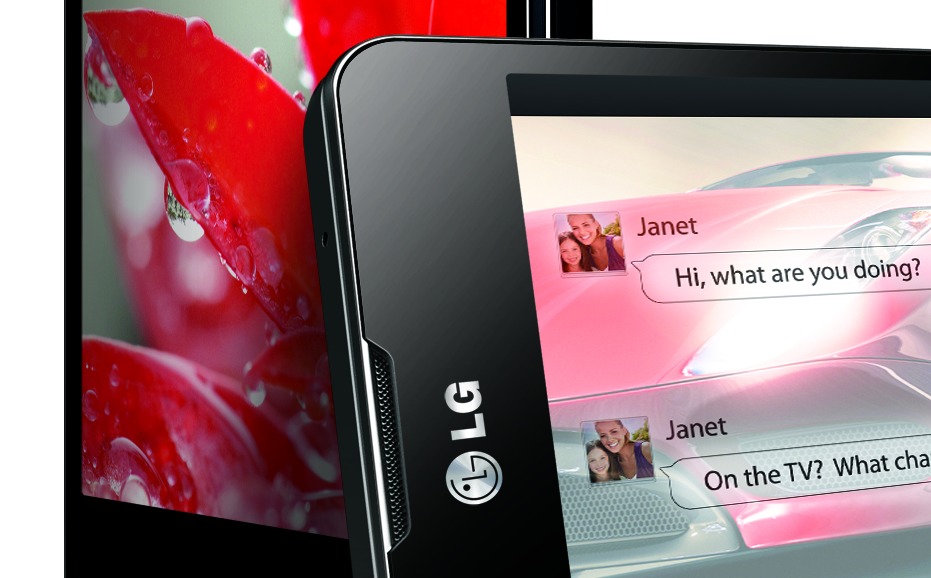 If you've been waiting through all the rumors of LG's newest flagship smartphone, today you're in luck. LG has officially announced and detailed their impressive new Optimus G smartphone complete with "groundbreaking features" and tons of improvements to their user interface. They're inviting users to live without boundaries thanks to the phones brilliant display and enhanced features. Lets take a look.
After all the leaks and Qualcomm confirming the device, today in Korea LG has finally taken the sheets off this awesome new smartphone and confirmed it will be arriving in stores starting next week in Korea, but first lets talk specs. LG is aiming for the top spot with this device and you'll be working with a Qualcomm Snapdragon S4 Pro quad-core 1.5 GHz processor, 2GB of DDR RAM, 32GB of internal storage and a 13 megapixel rear facing camera. All of this is running on Android 4.0 Ice Cream Sandwich too.
One of the other most important specs here is the display. You'll be enjoying all the Android apps and games you can handle on LG's new 4.7-inch TrueHD IPS+ display. Using LG's Zerogap Touch technology the display will be closer to the protective glass than ever. Making for a better, more vivid, and accurate viewing experience. That massive screen rocks a 1280 x 768 pixel resolution with a 15:9 aspect ratio and should look stunning. Everything is powered by a 2,100 mAh battery and is 131.9 x 68.9 x 8.45mm in size, 145g in weight. Then we have WiFi Bluetooth 4.0, GPS, NFC, 4G LTEand the usual goodies for sensors. Sadly it does not feature a micro-SD slot.
Then back alongside that massive 13 megapixel camera is a brand new design from LG. On the back is a cover made with LG's own patented Crystal Reflection process, which offers a unique polarized pattern under its surface. This makes the device durable, easy to hold, and gives off a 3D illusion that LG calls "exquisitely reminiscent of a jewel."
Along with Android 4.0 Ice Cream Sandwich LG's added tons of impressive new user interface and UX changes that make this what they're calling a groundbreaking smartphone. Things like voice actions in the camera, and tons of new cross-tasking features. Below is what you can expect to see:
QSlide Function shows two different screens simultaneously on one display. As it doesn't show a part of the screen but the entire screen of both functions, the user can complete two tasks concurrently – such as sending a text message or searching the web while watching a video;

· Live Zooming enhances the video-watching experience as users can zoom in up to five times while the video is being streamed for a close-up of one's child while watching a recorded video from a school recital;

· Dual Screen Dual Play not only allows mirroring between the smartphone and a TV, it also has the ability to display different content on each screen wirelessly. For example, a slide presentation can be displayed on the TV while the Optimus G shows the accompanying speaking notes;

· QuickMemo allows users to write, draw, or jot a memo with their finger directly on the captured screen for sharing instantly with others as an attachment or a URL. The QuickMemo can also be used as an overlay feature – like jotting down a number using the QuickMemo and directly dialing the number while the number is on the top layer;

· Screen Zooming allows for the zooming in and out of lists in music player, email, text messages and photo gallery. It also offers the ability to change the font size and screen layout;

· Application Link launches preset applications (Email, calendar, weather, etc) when the alarm is turned off – making your preparation time in the morning go a little faster with all the information prepared on your screen;

· Icon Personalizer allows users the ability to customize icons by editing size and adding images so the most frequently used apps can be most easily accessible.
Dr. Jong-seok Park, president and CEO of LG notes, "The Optimus G is a groundbreaking premium device not only in the history of LG but also in the smartphone industry – With the Optimus G, users will be able to experience unsurpassed UX features that will allow them to perform tasks that really enhance their daily lives."
The all new Optimus G kicks off next week in Korea and should be available in other global markets next month. We've been hearing the 13 megapixel model might not make it to all markets though, sadly. Rumors have AT&T first up with the LG Eclipse 4G LTE but we'll have to wait and see. Expect some hands-on time with this awesome new smartphone coming soon.
[device id=3353]