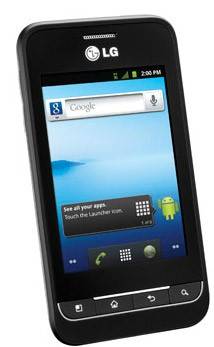 The extremely popular and budget friendly LG Optimus made it to almost every carrier I can think of in some way, shape or form and was hugely popular. We are now seeing pictured and details of the Optimus 2 from LG right on their official site. Who is ready for another awesome budget device to take over the low-range market?
The original was sold in many variations and was hugely popular bringing awesome specs for a great price. With dual-core and soon to be quad-core smartphones all over the market the Optimus 2 doesn't look nearly as appealing — but for those that don't need the best it could be another awesome smartphone. Thanks to PhoneScoop we now have all the details on this bigger brother to the original.
The LG Optimus 2 will rock out with its heart out. Featuring a 3.2″ display, Android 2.3 Gingerbread, a 3.2 megapixel camera and a measly 800 MHz processor that should be enough for any Angry Birds fan to have a good time. We don't know much about this new device from LG but with a small screen and a 1,500 mAh battery it should last plenty long and supply the budget crowd with a great device for all their smartphone needs. We'll most likely learn all the details at CES next week so stay tuned right here at Android Community.
[via PhoneScoop]