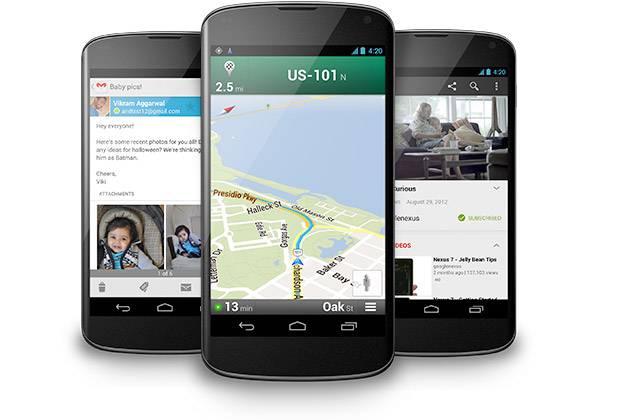 It was just a little while ago that Google finally announced the LG-made Nexus 4, and T-Mobile has wasted no time getting us a list of devices it will be offering this holiday season. The list features a number of different devices covering both Windows Phone 8 and Android, and as you may have already guessed, the Nexus 4 is one of the stars on the list. T-Mobile takes pride in pointing out that it's one of Google's "premier launch partners" for the Nexus 4, so if you're a T-Mobile customer, you can be one of the first to get your hands on the shiny new handset.
Why would you want to do that? Because not only does the Nexus 4 have an impressive list of specs, but it's also running Android 4.2 out of the box. We've talked plenty about Android 4.2 already today, and it's safe to say that the new version of Jelly Bean is something to get pumped about. From photo spheres to gesture typing, Android 4.2 definitely has a bunch of cool features on offer.
T-Mobile says that the Nexus 4, which features a 1.5GHz Qualcomm Snapdragon S4 quad-core processor and 2GB of RAM under the hood, will be available in select stores and online starting on November 14. It'll cost you $199.99 on the company's value plan, which will have you paying $20 a month for 20 months with a two-year agreement and a qualifying voice or data plan. On the flip side, you can get the Nexus 4 for $199.99 on T-Mobile's classic plan, and again, that requires your signature on a two-year agreement and a qualifying voice or data plan.
T-Mobile also reminded us today that the Samsung Galaxy Note II will be available at its stores and online during the holiday season, setting you back $249.99 on its value plan or $369.99 if you opt for the classic plan. Make no mistake, you'll have your choice of some excellent Android handsets if you're shopping at T-Mobile, and the price of the Note II on the company's value plan certainly isn't anything to stick your nose up at. Will you be going through T-Mobile to get either the Note II or the Nexus 4 this holiday season?