LG is definitely making some changes in its business strategy within the smartphone game. LG G7 development has already undergone changes and started from scratch. The South Korean tech company is rebranding its smartphone and smartwatch line. We had no idea that includes pulling out from the Chinese market. This is an interesting piece of information because usually, OEMs would consider on infiltrating the Chinese market if it wants to be relevant in the mobile business. For one, Nokia and Samsung are trying to enter the country even if they know there are not just dozens but hundreds of smartphone brands.
The information was shared by 'China Business'. One reporter was said to have visited LG's office in Beijing only to be told: "mobile phone business out of China". We're taking this with a grain of salt but we're curious as to why exactly if it wants to profit more and since full-year earnings and Q4 results of LG Electronics were favorable. But then again, LG Mobile did suffer a large loss. It's no wonder though because last year's flagship, the LG G6, wasn't even sold officially in the country. There is still hope for LG but looks like the company needs to step back a little in this critical period.
Upon checking LG's Weibo page, the last tweet was posted in 2016. It was about the LG G5 which was actually the last phone posted on LG's Chinese website.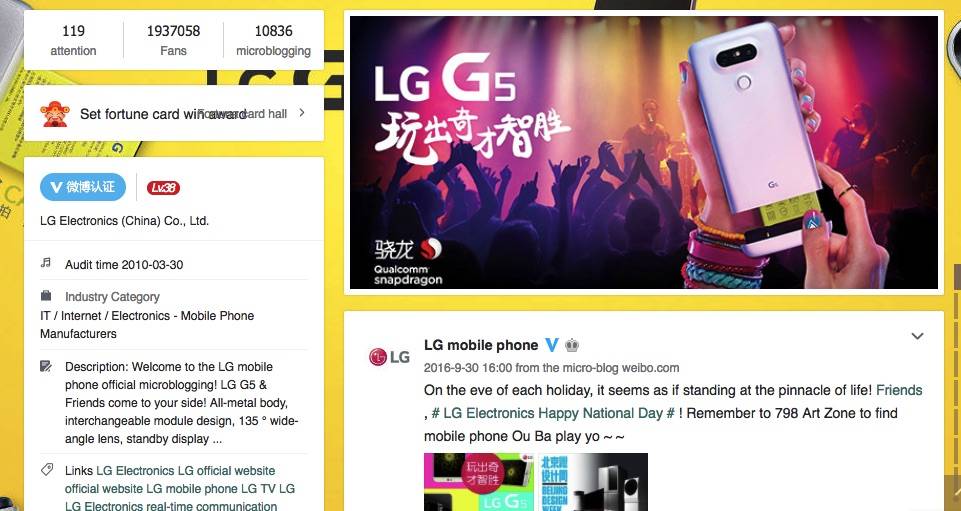 LG isn't in danger. No, not yet. However, its mobile business needs a lot of help. We're hoping smart home and automotive advancements will also help the company. As long as these categories are around, there will still be a demand for smartphones.
VIA: Sohu