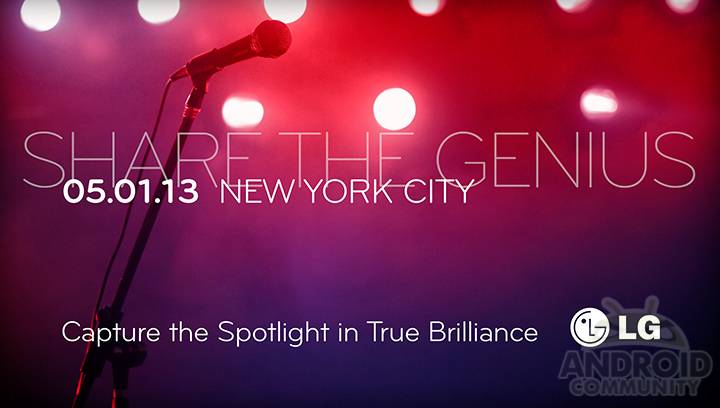 It looks like the folks from LG are looking to shake up the launch plans for both the HTC One, and Samsung's GALAXY S 4. Today they've just issued a set of "Save the Date" event and announcement invitations confirming they'll have something on display come May 1st in New York City. We have a few guesses as to what smartphone they'll release so head on past the break for more details.
LG has been working rather hard to get into this next-level of smartphones to compete with Samsung and others, and their past few devices certainly show some progress. With the LG Nexus 4 and the Optimus G they had great devices, and they look to continue that trend with the Optimus G Pro.
The company revealed the newly improved 5.5-inch 1920 x 1080p full HD smartphone the LG Optimus G Pro back at Mobile World Congress, and we have a feeling it will be hitting AT&T in early May. While we can't be certain that will be all they show off, most likely it will take center stage at their event on May 1st. The invite above also suggests it could be at Radio City Music Hall, just like the Galaxy S 4 – just a thought.
Previously we've reported the Optimus G Pro could hit AT&T in the U.S. as early as May 10th according to our sources, and last month the device even hit the FCC complete with AT&T 4G LTE on board. It's only a matter of time and it sounds like we'll be learning all of LG's plans come May 1st in New York City. As usual we'll be there live with all the details so stay tuned. Hit the links below for more details and hands-on with the G Pro.
[device id=4434]