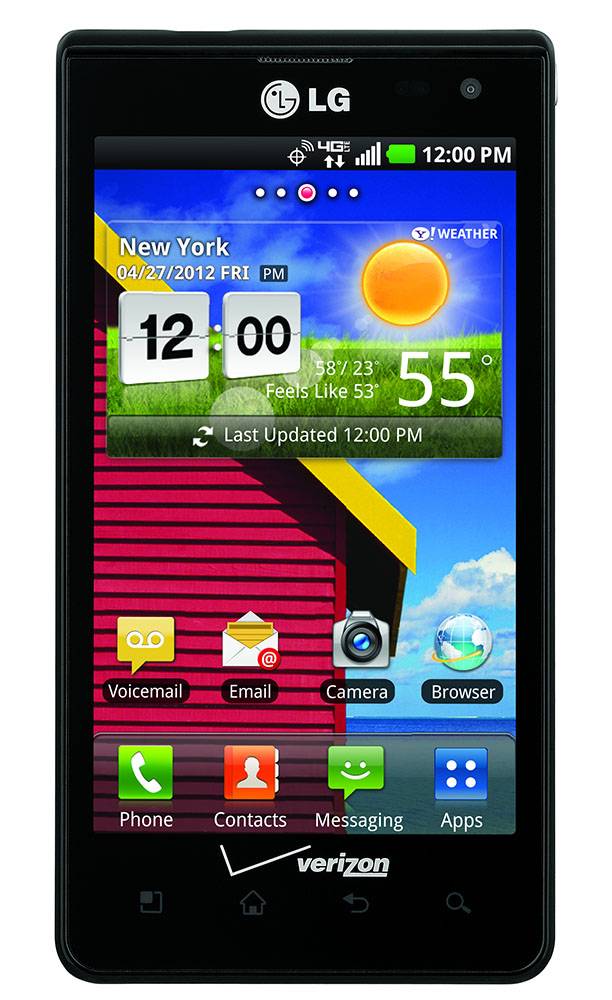 The previous rumors were true: Verizon is launching the LG Lucid on Thursday, March 29th. The mid-range Android phone will be a surprisingly low $79.99, making it a pretty good deal for a brand-new 4G LTE phone. Of course that price will require a new two-year contract, and (argh!) a mail-in rebate. Disappointingly but not surprisingly, the phone will launch with Android 2.3 Gingerbread (more than four months after the launch of Ice Cream Sandwich) but Verizon is already promising an upgrade to Ice Cream Sandwich – without giving a date. They're getting pretty good at that.
The LG Lucid combines some pretty good features for a sub-$100 phone. The 4-inch display didn't get a resolution in Verizon's press release, but it's almost certainly 800×480, and it's got the peace of mind of Gorilla Glass. A 1.2Ghz dual-core processor and 1GB of RAM should keep up even with high-end phones, though Verizon didn't mention storage, but a previous leak indicated 8GB of on-board space – there's no word on a MicroSD card slot, but it's probably there. The rear camera is a modest 5 megapixels with 1080p recording, and the 1700mAh battery stretches the case out to 11.4mm thick. Unlike some LG phones, the Lucid has all four Android navigation buttons.
On the software side of things, you get Polaris Office, a Swype keyboard, and LG's "I can't believe it's not TouchWiz" custom interface, complete with lockscreen shortcuts. As with all of Verizon's LTE devices, a mobile hotspot feature is included, but you'll need to pony up some extra money each month to enable it. What say you, Verizon customers – tempted by the low price, or waiting for something with a little more oomph?