So it looks like February 21 is going to be a big day for us smartphone pundits. Samsung has confirmed that it will be unveiling the Samsung Galaxy S7 on that night, right outside the main hall of the Mobile World Congress 2016 (MWC 2016) in Barcelona, Spain. But it looks like another Korean manufacturer will beat them to the punch, at least on the day, as LG has declared the same date to be "LG G5 Day", which means they will be launching their own flagship just hours before Samsung's nighttime event.
It's not strange in the smartphone industry that a level of one-upmanship is practiced – the industry is cutthroat, and companies will leverage for even the smallest of advantages. It looks like LG is doing just that, launching its own flagship smartphone for the year, the LG G5, hours before competitor Samsung unveils the Samsung Galaxy S7. But the event invite (shown below), though. We don't quite get it.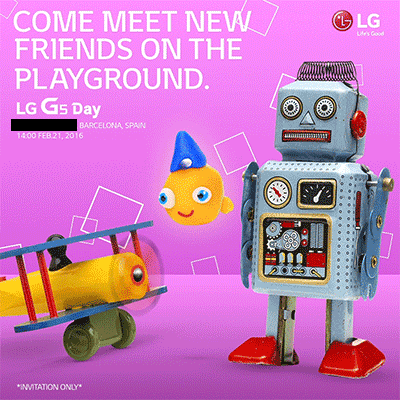 It is not uncommon for launch events to run under a theme, but this one takes it to the realms of "confusing". A moving toy robot and a bouncing, err… duck/fish/something, we don't quite know what to make of it.
Be that as it may, we're expecting the LG G5 to compete in terms of great camera features, while Samsung will have product popularity and cutting edge tech in their corner. It's going to be a busy and exciting day for us on that day, so watch this space.
VIA: SlashGear