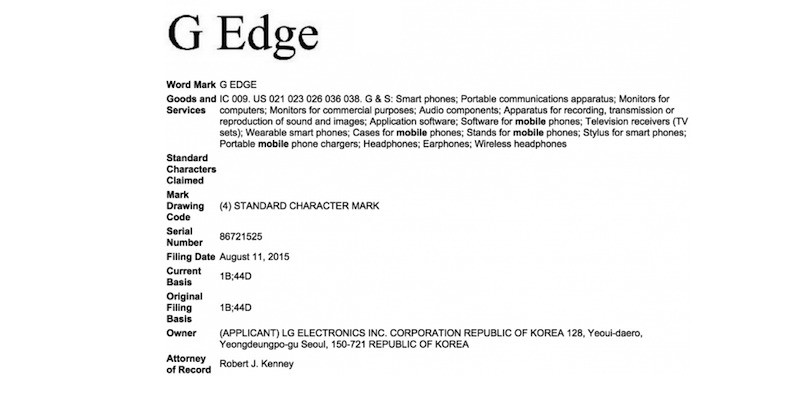 Aside from Apple, one of Samsung's biggest competitors is LG. It's another South Korean tech company that has been planning on using curved-edge displays on its flagship phones. The LG G4 has a slightly curved display but nothing like the Note Edge, S6 edge, or the latest S6 edge+. Sure, there is the LG G Flex 2 model but its curve is different.
And so we're curious now as to what LG could be planning. You see, the company filed for trademarks days before Samsung officially unveiled the Galaxy Note 5 and Galaxy S6 edge+. Trademarks for the following phrases were filed: Super Edge, Dual Edge, Upper Edge, Dual Side Edge, Side Edge, Double Edge, Two Edge, and G Edge. LG seems to be just trying to get ahead of Samsung by filing to trademark terms that they or Samsung could use in future Edge phones.
We don't know LG's plans yet but the trademarks could mean more points against Samsung. As early as now, LG is believed to be working on a curved premium phone that would directly compete with the Samsung edge devices. LG Edge phones are not far from impossible. Perhaps we can expect an LG Dual Edge anytime soon. If not, maybe an LG G Edge.
Not much information have been given by LG in this trademark filing which we can also consider as a strategy. It's not only the important trademarking LG did in the recent days. Why, the company also trademarked "Meerkat", sparking rumors that the Meerkat company has been purchased by the Korean giant. Meerkat merely laughed at the idea.
Obviously, the possible LG-Meerkat partnership would directly compete with the Samsung and the YouTube Live Broadcast deal.
Thank you LG for being ever so mindful of Samsung and the possible products the competition may churn out but seriously, what's going on?
VIA: PHANDROID