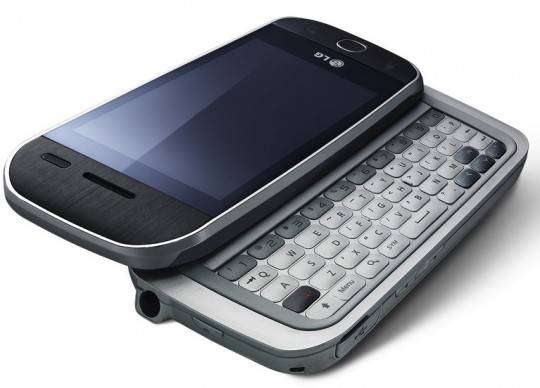 The Android phones keep on coming, this time, manufacturer LG has jumped into the Android bandwagon. The Eve, aka GW620 is their first smartphone running on Google's Android OS. According to LG, the Eve Phone will make social networking even friendlier than anything else out there.
The LG Eve has made its way into Canada's Rogers Wireless network, it sales for $49.99 on select 3-year plans, and if you want to get it with no contract, it'll set you back $399.99. One of the things that I really love about this phone is the 5-line QWERTY keyboard, besides, it looks pretty cool, at least on the pictures. There's also a 3-inch resistive touchscreen, with a resolution of 480 x 320 pixels, together with, according to Rogers; GSM/GPRS/EDGE – 850/900/1800/1900 MHz and HSPA – 850/1900 Mhz.
The first Android LG brings a SNS (Social Network Services) Manager that pulls together Twitter, Facebook and Bebo updates. It sports a 5-megapixel autofocus camera and automatic face recognition tying images into contacts entries. LG Eve will also have a built-in accelerometer, Wi-Fi and GPS. It also comes with built-in Google apps; Google Search, Google Maps and one that I feel every single smartphone out there should have; Google Latitude. Inside the box you will find a 2 GB memory card included, and the Eve comes with support for up to 16 GB MicroSD.
You can find out more on Rogers site and have fun watching the videos below.
[youtube]http://www.youtube.com/watch?v=aUb21PdRutM&feature=player_embedded[/youtube]
[youtube]http://www.youtube.com/watch?v=BHsIKYidkTY&feature=player_embedded[/youtube]